From Two Club Feet To Speedster

By
.(JavaScript must be enabled to view this email address)
Wednesday - May 10, 2006
|
Share

Del.icio.us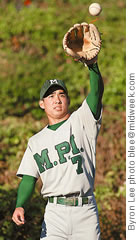 Slow as a child, Tamashiro
today is blessed with
speed
Adam Tamashiro was born with two club feet.
"I'm pigeon-toed," he says.
But the birth defect has hardly slowed down this Mid-Pacific Institute baseball star.
"He makes things happen," says his head coach Dunn Muramaru. "When he's on base, there's an air of anticipation. He's very aggressive. And he's fast."
Tamashiro is not only fast, he's also one of the best hitters in the state this year.
"He's hitting over .500 for us this season," says Muramaru. "He leads us in virtually every statistical category - hits, RBI, runs, home runs. He's an exciting guy."
Tamashiro's development comes despite being born with a birth defect that afflicts approximately three out of 1,000 infants, according to medical research. Clubfoot can be severe, thus requiring braces, therapy or surgery; or it can be mild, with some youngsters essentially growing out of it.
Tamashiro was lucky enough that he didn't need foot braces or surgery, but despite playing all kinds of sports while growing up in Manoa, Makiki and Ewa, he still had challenges to overcome.
"My body grew, but my ankles were really weak," he says. "They would get really loose and just pop out."
By his freshman year at MidPac, the problem became especially severe. "My ankles started hurting so much that I could hardly walk without pain," he recalls. "I started wearing ankle braces."
And with his ankles finally firmly supported, there was an extra benefit. He got faster.
"He told me that he used to be kind of slow growing up," Muramaru says. "Somewhere along the line, he just got fast."
"I can't really put a finger on it, but it just happened," Tamashiro says. "I think it was between my freshman and sophomore year. I was on second base and the coach gave me the signal to steal. I stole third base and the coach said, 'Hey, you're pretty fast, huh!' Since then, just the pressure of the game makes me run faster."
Tamashiro has put his speed to good use both offensively and defensively. He started at second base as a sophomore for MidPac and was hitting over .400 when he suffered a season-ending thumb injury. "I had to have surgery to repair the ligament," he says.
But he bounced back his junior year and hit over .400 again as the Owls' starting shortstop. This year, he's been hitting at a remarkable pace, with several three- and four-hit games, as the team's centerfielder.
"I play wherever the team needs help," he says.
His remarkable improvement as an all-around player has come through practice, hard work, and the opportunity to play baseball beyond Hawaii. Last summer, he played for a club team in California. "It was great playing with bigger Mainland guys," he says.
And this winter, he skipped Christmas vacation to play ball in Australia.
"I was on a Goodwill team that was made up of guys from all over the United States," he says. "It was a great experience - my first time out of the country. We played a lot of minor league teams from Australia. They were pretty good."
Tamashiro says the whirlwind year of baseball from Hawaii to California to Australia has made him a much better player.
"I really grew this past year," he says. "One of the scouts in Australia told me I should try switch hitting. He said it would really help me at the next level. So I'm working at it."
And with the switch hitting expertise about to be added to his impressive baseball resume, Tamashiro's future looks extremely bright.
"I want to play in a D-1 college program somewhere," he says. "And one day, I'd love to play in the pros."
Anything is possible for Mid-Pac's Adam Tamashiro, who won't let anything slow him down.
Most Recent Comment(s):