Getting Back On Track In Manoa

By
.(JavaScript must be enabled to view this email address)
Wednesday - June 02, 2005
|
Share

Del.icio.us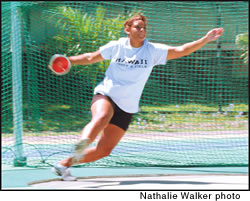 Novelle Murray came to UH as a heptahlete,
but became a champion discus thrower
What's the secret to building a successful college track and field program? For Carmyn James, the answer is surfing.
"I'm out (in the water) from 7 to 8 in the morning every day, Monday through Friday," James tells me. "It's a bit of a spiritual thing. I appreciate the warm water, the rainbows. It's really balancing for me. I can't think of another skill quite like it."
Understand, James knows skills. She's the head coach of no less than three sports teams at the University of Hawaii — outdoor track and field, indoor track and field, and women's cross country.
She has literally built the track and field program from the bottom up. When she was hired five years ago from the University of British Columbia, she took over a team that had no athletes, no equipment and a track so old it virtually had potholes in it.
"Our two biggest obstacles were the facility and the equipment," she remembers. When the new state-of-the-art track was completed a couple of years later, high quality athletes took notice, and James began to build a program.
This year, she started to see real growth.
"We started to pick the fruit from the tree we planted five years ago," she says. "We had our best point total and best finish ever at the WAC Championships. We sent the most athletes ever (six) to the NCAA Regionals. It's a feeling of real accomplishment."
And how did she notice that her Wahine were making a difference?
"This year, we started turning heads. We weren't just considered that friendly team from Hawaii anymore," she says. "Other teams were feeling truly threatened by us."
James has her athletes to thank for that. Plus her own willingness to be flexible.
For example, several of her athletes came into the program with specialties in certain venues, but then blossomed under her staff's coaching techniques to prosper in entirely different disciplines.
"Novelle Murray was recruited to be a heptathlete, but has become a record discus and hammer thrower," James says. "Patricia Gauthier came in as a sprinter and hurdler, and became an NCAA qualifier in the pole vault. Tasha Monroe was recruited as a long jumper, but then recorded the fastest split times in the 4X400 relay, and our best times in the 200 and 400."
Another example of allowing athletes to spread their wings is local girl Ku'ulei Karratti of the Big Island.
"She was the state 100-meter dash champion, plus and a state rodeo champion," James says. "We started teaching her the hammer throw, an event that was totally foreign to her. Her father even called us from the Big Island to find out exactly what a hammer throw was. (But) she has done extremely well (qualifying for the WAC Championships) in just a short period of time."
Those success stories lead to a statement that could be considered Hawaii's new track and field motto.
"We don't pigeon hole. We develop," James says.
That positive, no-fear attitude comes right from the head coach herself. When James moved to Hawaii a half-decade ago, she says, "I was kicking myself that I didn't do anything but track" when she was in Canada.
Her first challenge in the islands was getting into the ocean.
"I had never surfed," she recalls. "Never. That first year here, I was afraid of sharks."
It took a good friend to convince her that there weren't any sharks where they surfed. And since then, James has made the waters off Oahu her second home.
"Now, I've got a 10-foot longboard and a sailboat," she says.
Her daily treks into the ocean have helped pump life into the UH track and field program. She expects this season's growth to be strongly exceeded next year.
"A top-three WAC finish and double-digit NCAA qualifiers," she says boldly.
For Carmyn James, a woman who overcame a fear of sharks, and started a track and field program from virtually nothing, anything is possible.
.(JavaScript must be enabled to view this email address)
Most Recent Comment(s):
Commenting is not available in this weblog entry.