Getting His Kicks In Business

By
.(JavaScript must be enabled to view this email address)
Wednesday - May 17, 2006
|
Share

Del.icio.us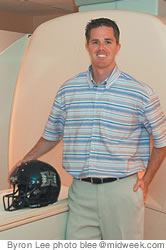 Eric Hannum
Eric Hannum is used to challenges. He knew the feeling of competitive pressure when he was the kicker for the University of Hawaii from 1996 to 2000. Since then, he's come to know the tremendous pressure of the medical business world as the marketing director for two Honolulu-based MRI/Imaging centers.
But as huge as the pressure was to knock through a game-winning field goal in front of 50,000 fans, nothing could have prepared Hannum for the health scare he received a couple of years ago.
"I was diagnosed with type-1 diabetes," recalls Hannum, now 28. "That mean's I'm insulin-dependent. There was no diabetes on either side of my family, so it wasn't genetic. It also wasn't diet-related. A virus had (apparently) attacked my pancreas. I was in shock."
But Hannum wasn't going to let the news get him down.
"I took it the way I do everything in life," he says. "I told myself I can step up and do this."
And he has. He began educating himself on the disease and then getting involved in educating others. He became a role model for other diabetics with his strict diet and exercise routine.
"I'm eating better and healthier than I ever was," he says. "I'm going to live to be 90."
That kind of confidence is what Hannum exudes every day. And it's been that way since he came to Hawaii as a walk-on kicker and punter in 1996. He was supposed to be the backup to Chad Shrout, but Shrout's mother died suddenly, thrusting Hannum into a starting role.
"I was thrown into the mix immediately," he says. "That playing time really helped me."
By the time he was a sophomore, he was on full scholarship and had moved from punter to kicker. And although he missed virtually the entire 1998 season because of a hamstring injury, it "was a blessing in disguise," Hannum says, because the team went 0-12 in Coach Fred vonAppen's final year.
Then came June Jones and Hannum's career took off right along with the fortunes of the rest of the Warriors. The lithesome kicker from Southern California hit a career-long 50-yard field goal on the road against SMU.
"That was a big game for us because it was our first win on the road in a long time," he says.
But his toughest field goal chance came at Aloha Stadium. And it wasn't a long kick.
"The biggest kick was the 22-yarder against Fresno State that sent the game into double overtime," he remembers. "I had struggled for a few games before that, so talk about a confidence-builder. I don't think I missed for eight games after that."
Of course, the 1999 Warriors won that game and became the NCAA's greatest turnaround team. Hannum then helped Hawaii win the Oahu Bowl with three field goals against Oregon State. Later, after his senior year, he was on to life after football by 2001.
"I knew playing in the NFL was a long shot, so I started networking (in business) my sophomore year," he says. "I think I was given an opportunity at the right place at the right time. I wasn't handed anything. I had to perform almost immediately."
Hannum became the marketing director for Hawaii PET Imaging Center directly out of college, five years ago. The PET scan - located in a mobile unit that rotates between St. Francis West and St. Francis Liliha (and soon to be located at the new UH Medical School in Kakaako) - is technically a positron emission tomography device used to help diagnose cancer patients. Three years ago, Hannum doubled his responsibility by becoming marketing director for Island Imaging Center, which handles MRI and CT services for orthopedic and sports-related injuries.
"We do the majority of the MRIs for UH," Hannum says.
Hannum also stays involved in the football world. He still works out at UH and helped recruit current kicker Dan Kelly to Hawaii. Recently, Hannum also has been a volunteer assistant for Punahou, helping the Buffanblu reach the state championship game this past year.
"We had an all-state kicker, River Kim, and an all-state punter, Keoki Hong, for the first time in years," he says proudly.
Hannum has a reason to be proud of his success.
"Either you do it or you don't," he says of life's challenges. "I feel I need to prove it every day. It's kind of like field-goal kicking. One day you're the goat; the next day you're a hero."
The way he's handled his diabetes and the success he's shown in the business world, Eric Hannum has truly gone from football hero to everyday hero. In life, it's as if he's kicking 60-yard field goals right through the uprights every day.
Most Recent Comment(s):