Getting To Know Coach Timo

By
.(JavaScript must be enabled to view this email address)
Wednesday - September 03, 2008
|
Share

Del.icio.us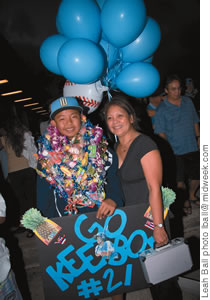 Keelen Obedoza is greeted by grandma Mel Conselva at the airport
A little bit about a lot of local sports people:
Timo Donahue might be getting used to Cinderella stories. Not only did he coach the underdog Waipio team to the Little League World Series title, he's been doing this his entire life.
First, he starred at Damien, earning first-team all-state honors while facing the likes of ILH powerhouses Punahou, St. Louis, Kamehameha, Iolani and Mid-Pac on an almost daily basis. Then he took his talents to the University of Washington, where he led the Pac-10 North Division in hitting. Then he played in the Cleveland Indians organization at a time when the Indians were struggling to rebuild their once-proud tradition.
His favorite quote says a great deal about his never-saydie attitude: "How hard would you play if there was no tomorrow?" His Waipio team showed the answer to that question with its mind-blowing comeback in the last inning of the U.S. title game, scoring six runs to win 7-5. * A check of the local high school football rosters reveals that three of the stars from the 2005 Ewa Beach Little League World Series champ are playing for powerful St. Louis: Vonn Fe'ao, Kaeo Aliviado and Sheyne Baniaga.
Michael Memea, the youngster who hit the last-inning game-winning home run in that 2005 series, is a star basketball and baseball player at Damien, and was recently named the Sportsperson of the Month by the Honolulu Quarterback Club for his outstanding play in summer baseball competition. * Speaking of high school sports: Punahou's Manti Te'o reportedly has more than 30 full-ride football scholarship offers already. Schools salivating over the chance that last year's Hawaii defensive player of the year will play for them include USC, Notre Dame, Florida, BYU, Hawaii, UCLA and a list so long it would virtually fill this page.
Te'o is listed as the top high school linebacker in the country by Rivals.com and is considered one of the top 10 recruits in the nation by most recruiting services. In my humble opinion, he's the most outstanding defensive player at this level I've seen in my nearly five decades of watching high school football.
Four other players for the top-ranked Buffanblue football team are also Division I prospects: running back Dalton Hilliard, tight end Kimo Makaula, receiver Robbie Toma and quarterback Cayman Shutter. Makaula has already committed to Hawaii and Shutter has committed to New Mexico. * While Punahou has a very good team, St. Louis might lead the way in offensive excitement this season. Left-handed quarterback Jeremy Higgins is the real deal, and his receiving corps of Billy Stutzmann and Lucas Gonsalves are virtually unstoppable.
Stutzmann has already committed to play for Hawaii, where his brother Craig was a star receiver, and Gonsalves reminds some local fans of the great George Ornellas, with his thrill-a-minute moves. Gonsalves is one of those rare three-sport athletes these days who start and star in football, basketball, and baseball. * Higgins is the younger brother of former St. Louis quarterback CameronHiggins. Cameron, a college sophomore now, will be the starting QB for Weber State when they come to Aloha Stadium this Saturday night for the Hawaii Warriors home opener. Last season, Cameron was named the Big Sky Conference Newcomer of the Year. * The most talked-about high school quarterback in Hawaii is Leilehua sensation Andrew Manley. Dubbed the "man-child" last season when he came up from the JV team to lead the Mules to the varsity DI state championship, Manley is now listed at 6-feet-3-inches tall and 215 pounds. That's huge by Hawaii high school quarterback standards. And he's only a junior!
Before his prep career is completed, he might be the most sought after local quarterback recruiting prospect since Timmy Chang. * Finally, a shout out to the former Hawaii high school athletes who won gold and silver medals in the recent Olympics: Bryan Clay (Castle), Natasha Kai (Kahuku) and Clay Stanley (Kaiser) all won gold. Robyn Ah Mow
(McKinley), Lindsey Berg (Punahou) and Brandon Brooks (Punahou) took home silver.
What an incredible summer it's been for Hawaii sports!
Most Recent Comment(s):