Girlie-girl To A Wrestling Champ

By
.(JavaScript must be enabled to view this email address)
Wednesday - July 12, 2006
|
Share

Del.icio.us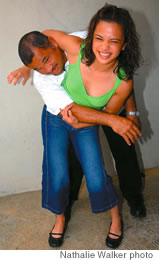 Kapua Torres puts a headlock
on dad Reggie
Kapua Torres probably never dreamed of being a national wrestling champion when she was growing up in Kahuku. Certainly, she never dreamed of going to the Olympics.
"When I was little, I was a real girlie-girl," Kapua recalls.
But she lived in a home consumed by sports - her dad is Kahuku High School's longtime wrestling and judo coach Reggie Torres, who was recently elevated to head coach of the Red Raiders' powerful varsity football team.
"I got into wrestling because I spent a lot of time watching my dad coaching, but I got bored with watching," Kapua says. "I tried it, but I didn't like it at first. So I became the team manager."
That was back in the seventh grade when Kapua attended Kamehameha. She didn't stay on the sidelines passing out towels and water for long.
"I got bored with being the manager and I started competing again in the eighth grade," she says. "I hated losing, even a simple game. I (learned to) like wrestling because of its intensity and the commitment level you have to put into it."
Kapua transferred back to Kahuku for high school and a love affair was born. With the sport of girls wrestling just beginning to become popular, Kapua became one of its stars. She won the OIA title as a sophomore and placed runner-up in the state tournament as a sophomore and junior. As a senior she took home the gold, winning the OIA and state championships in the 108-pound weight division.
"That was the icing on the cake," she says. "To win it after losing so close two years in a row, I was very hungry for the win."
To add more icing on that cake, Kahuku also won back-to-back team championships.
"The girls on that team were so close," Kapua recalls. "We had sleepovers and barbecues at my house all the time."
All along, her dad was her mentor.
"A lot of people thought it would be too much pressure, but it wasn't," she says. "He put us all through tough workouts and he treated me just like any other athlete. I loved being able to spend so much time with him."
But that changed when Kapua went away to college. An excellent student who had been one of Kahuku's class valedictorians her senior year, she earned an academic scholarship to Pacific University in Oregon. With her dad now 3,000 miles away, she continued to blossom on the wrestling mat.
"Because he was always coaching, he's only been able to see me once while I was in college," she says. "But he gives me pointers on the phone. He's still my mentor."
That mentoring paid off during Kapua's sophomore year at Pacific when she won the national championship (at 51 kilos) at the college nationals. Then, she added to her gold medals by winning the title at the junior nationals, plus she qualified to represent the United States at the junior world championships.
But she paid a price in getting to the top.
"I started getting pinched nerves during my sophomore year," she says. "I tried to shake it off, but it kept happening all the time."
The problem got so bad that the school's team doctor refused to clear her to participate this past season.
"I was upset and scared," she says. "I didn't know the extent of the spinal injury. I didn't want it to be over forever."
Her doctor advised rest. Kapua complied and stayed in shape by working out in the pool, then eventually lifting weights, and doing other cross training. "The layoff was a blessing," she says. "I haven't had a single pinched nerve since."
Kapua has been at home in Kahuku during summer vacation, working out six days a week with her dad and other athletes. She's in top shape again, and ready to take her talents to the next level. Last week she left for Colorado Springs and the Olympic National Training Center.
"My goal is to qualify for the Olympics in 2008 and 2012," she says. "I also want to make the senior national team and the world team."
And after that, what's next for Kapua Torres, the former self-professed girlie-girl?
"I want to become a teacher and get into coaching. I want to coach so much," she says.
Just like her dad.
Most Recent Comment(s):