Giving Tiny Spikers An Early Start

By
.(JavaScript must be enabled to view this email address)
Wednesday - August 18, 2005
|
Share

Del.icio.us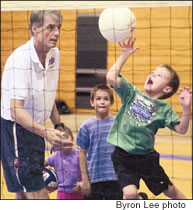 Jon Stanley works with his children,
from left, Zayla, Will and Jon
Former Olympian Jon Stanley of Hawaii Kai turned 62 years old this summer.
How did the All-America volleyball star celebrate his latest birthday, you ask? By taking home both a gold and silver medal in the World Masters Games in Edmonton, Canada.
"We won gold in the 60s (60 years of age-and-older age division) and finished second in the 55s (55 and up)," Stanley says proudly.
It's the fourth gold medal in World Masters competition for the 6-foot 6-inch giant who played for the USA in the 1968 Olympics in Mexico City and the 1972 Olympics in Munich. After a successful professional volleyball career, he earned a spot in the National and International Volleyball Hall of Fame. He's also been inducted into the Hawaii Sports Hall of Fame.
And a year ago, his fame in the sport came full circle when he traveled to Athens, Greece to watch his own son, Clay, play for the USA team in the 2004 Summer Olympics. Thus, the Stanleys became the first father-son duo in Olympic volleyball history.
These days, the soft-spoken elder Stanley keeps in tip-top shape by playing recreational volleyball and basketball and by coaching volleyball at Kaiser High School. He's also the fitness director at Fort Shafter.
This summer, he grabbed onto a modified-game idea that has been successful on the Mainland by starting a weekly volleyball clinic that allows even the youngest volleyball enthusiasts a chance to bump, set, and spike.
"It's patterned after the (extremely successful) Dennis Agena basketball clinic," Stanley says. "We meet each Sunday afternoon from 3:30- 5:30 at the Kaiser High gym."
Inside the gym, Stanley and his assistant coaches for the Hawaii Junior Volleyball Club, along with volunteer parents, teach the most basic volleyball skills to approximately 40 youngsters, some as young as 5 and 6 years old.
Since volleyball is such a game of strength and power, as well as finesse, how can they do it?
"It's called mini-volleyball," he says of the game intended for elementary age boys and girls (ages 5-11).
In mini-volleyball, nets are lowered to accommodate the younger and smaller players. And teams play with only four on a side in a smaller court area. "The nets are at three different levels," he says. "You can't play on a 7-foot-4-inch net when you're only 5 years old. So, for the youngest players, the net could be as low as only 3 feet."
Because the nets aren't so intimidating, younger players can learn volleyball skills at a much earlier age.
"Normally, you wouldn't teach spiking or blocking at this age, but we can," he says. We've modified a lot of the drills."
One of the techniques that Stanley's coaching staff uses to teach spiking, for example, is having the youngsters hit the ball after jumping off a trampoline." The kids learn very quickly and it's a lot of fun."
"We bring the level of the game down to the level of the kids," he says. And that way, Stanley and his mini-volleyball clinic begin to mold another generation of the highest level of Hawaii volleyball players.
For more information, contact Jon Stanley at 395-6536. Or drop by Kaiser High School's gym next Sunday afternoon. Enrollment is open.
Most Recent Comment(s):