Going For Two Titles In One Year

By
.(JavaScript must be enabled to view this email address)
Wednesday - September 21, 2005
|
Share

Del.icio.us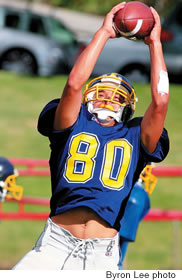 Miah Ostrowski blends a bit of
Derek Low and Chad Owens
I think most local sports fans would agree that Iolani's Derrick Low is the most prolific high school basketball player in recent Hawaii history. And most would also probably generally agree that Chad Owens is the most exciting football player in recent University of Hawaii gridiron history.
Now that we have that settled, just imagine, if you will, a high school athlete with the basketball skills of Low and the potential football skills of Owens.
Absurd, you think?
Well, then you haven't seen Punahou's Miah Ostrowski.
Miah, shortened from "Jeremiah," is arguably the best all-around high school athlete in the state. And, get this, he's only a junior.
The 5-foot-9-inch package of athletic dynamite averaged more than 20 points a game last year on the hardwood. With a variety of creative outside shots and dazzling drives, his regular season career high is 32 points. And he scored 31 points in a state tournament game last season.
He's already been named First Team All-State in his first two years of varsity basketball competition.
"I love basketball. I grew up loving it. It's in my genes," he says.
That's an understatement. Miah's father, Kui, and his two uncles, Dominic and Miki, were hoop stars for the great Maryknoll teams of Tony Sellitto in the '70s and '80s. His Aunt Robbie started the Ostrowski family tradition of athletic excellence as an AllState girls basketball and volleyball player, also at Maryknoll.
But where Miah is turning heads right now is on the football field. He's probably the most talented wide receiver in the state, as he recently showed with a multiple touchdown game against Kailua and a long touchdown reception in Punahou's 10-0
victory over visiting Timpview, the top-rated team from Utah.
And consider this, future defensive coordinators: He's only going to get better.
"I didn't play football until the eighth grade," he says. "The coaches kept asking me and finally I decided to try it. I went out, at first, as a way to get more physical and prepare for the basketball season."
With his knowledge of the game amounting to nothing more than playing barefoot touch with his cousins or playing catch with his dad, Miah didn't even know what position he could play.
"Growing up, I always wanted to be the quarterback, but I came out and it was obvious that Brett Kan (the current Punahou signal-caller) was definitely better than me," he says, humbly. "I'm not really a hitting kind of guy, so I ended up trying wide receiver."
But as successful as he was on the basketball court, he wasn't ready for stardom on the football field.
"I wasn't even planning on going out for varsity last year," he says. "It just happened. I was surprised."
Not only did he make the varsity squad as a 10th-grader, he became an instant offensive weapon. His speed, great moves and outstanding hands helped elevate Punahou into an instant ILH contender. This year, he's become a receiving sensation, catching passes all over the field. He credits his skill on the basketball court for that success.
"Everything I do on offense came from basketball," he says. "Being a point guard helped me with my on-the-field vision. I was used to faking a man one way and going the other. You do the same thing as a wide receiver. I'm getting used to getting hit."
These days, he doesn't get hit much. Punahou has been ranked as high as No. 2 in the state this season, the Buffanblu's best start in years.
"I'd love to win two state titles. That's been a goal of mine since I was in the eighth grade," he says.
It's a championship goal he learned from watching Hawaii's best. But as great as Low and Owens were, even they never accomplished that feat.
If Miah Ostrowski and his teammates can pull off that incredible doubleheader, then it's safe to say he's in a league of his own.
Most Recent Comment(s):