Good News For HPU Soccer

By
.(JavaScript must be enabled to view this email address)
Wednesday - February 13, 2008
|
Share

Del.icio.us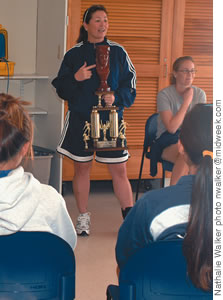 Michele Nagamine, with their latest state title trophy, speaks to her Kamehameha team
Without a doubt, Michele Nagamine is a whirlwind of enthusiasm. You think the Energizer Bunny works hard - well, Michele puts the little bunny to shame.
"I'm very blessed to get to do what I like to do every day," Michele says with a beaming smile at the press conference that introduced her as the new women's soccer coach at Hawaii Pacific University.
The media gathering was just two days after she led the Kamehameha girls soccer team to its third straight state title, and just two weeks after she was named as the National Soccer Coaches Association of America Parochial High School Division National Coach of the Year.
"Michele has been ILH Coach of the Year (six times), State Coach of the Year (four times) and now National Coach of the Year. No one will be surprised when she wins PacWest Coach of the Year honors," says HPU Athletic Director Darren Vorderbruegge. "The dynasty she has created at Kamehameha- with three state championships in a row and five state titles overall - is a testament to her enthusiasm and work ethic."
And, yes, Michele knows how to work. She's employed full time by the Outrigger Hotels chain as its director of sports marketing and sales, and the HPU gig will be her third coaching job each year. Besides Kamehameha, and now HPU, she's also the technical director of the powerful Leahi Soccer Club.
She says she gets by on as little as five hours of sleep each night. "I'm up early every day," she says with a smile. "Sleep is over-rated!"
"I need another team like I need a hole in the head," she jokes about why she decided to add the Sea Warriors to her resume. "But the deciding factor is that we can recruit so much local talent. The level of soccer here in Hawaii is excellent, and I see the PacWest as representing opportunity for all of our local kids."
Michele was an outstanding high school athlete herself, playing in the tough ILH back in the '80s. But her Kamehameha team never won a title then. "It was Punahou all four years," she says. "That's why I did a little dance (last Saturday night) when we beat them. Anytime you can earn a victory against Punahou, it puts a smile on your face."
Michele went on to play collegiately at Santa Clara University. "I was on their first team that reached the Final Four," she recalls.
And then it was back home to Hawaii where she took over her alma mater's program at Kamehameha in 1993. She practically willed the Lady Warriors to their first title in 1995 and then again in 1996. That was followed by three in a row from 2006 to 2008.
"We started from humble roots and built it into a soccer power-house," she says. "I'm hoping to build the same kind of momentum at HPU."
One thing is for sure, her new players already know about Michele's energetic reputation.
"One of the dads called me after I got the job and he told me what his daughter said after he broke the news that I was the new coach. She apparently yelled out 'Oh my gosh! I'd better start running now.' I guess we must have a reputation for hard work and discipline."
She says the first day of conditioning for her new team will be Feb. 19. "They'd better be ready," she says with a wink.
And because she's so busy herself, there will also be time for more honors for her victorious team at Kamehameha. Her team and the boy's championship teams at Kamehameha will be honored at the Pan Pacific Championships next week, with the likes of soccer legend David Beckham looking on.
No wonder Michele Nagamine is excited. Then again, that's how she is every single day. Like that energetic bunny, she just keeps going and going and going. And now, she's going with HPU.
Most Recent Comment(s):