Great Volleyball Player, Great Mom

By
.(JavaScript must be enabled to view this email address)
Wednesday - March 04, 2009
|
Share

Del.icio.us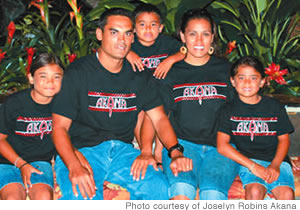 (from left) Braelyn, Brandyn, Tausili, Joselyn and Keonilei
She used to be the "girl next door." Now she's the mom next door.
"People approach me at the store or at the park and they'll say, 'Are you the volleyball player? Are you Joselyn Robins?' It always amazes me that they still remember," she says.
But who could forget Joselyn? She was truly Hawaii's sweetheart during the amazing run of the University of Hawaii Wahine volleyball team during the mid-1990s. Playing alongside the likes of Angelica Ljungquist, Robyn Ah Mow, Cecelia Goods, Chastity Nobriga and other great players of the past, she captured our hearts with her talent, her charm and her tenacious smile.
"It was during the start of the Stan Sheriff Center era (actually named the Special Events Arena back then). People came (by the thousands), and there was something about that team," she recalls. "We overcame so much adversity and then started doing very well."
As it turns out, Joselyn is still doing very well. She's now Joselyn Robins Akana - married the last 10 years to BYU-Hawaii assistant basketball coach Brandyn Akana (the brother of former UH basketball star Jarinn Akana) and they have three young children. Their two daughters, Braelyn and Keonilei, are 8 and 7. Their son, Tausili, is 5.
Her family and her children have become the major focus of her life. In Laie, she's in the PTA, she volunteers in the classroom and she helps organize children's events, among many other tasks.
"When people ask, and I tell them, 'I'm at home, being a mother.' I get mixed reactions," she says. "They seemed surprised. They wonder why I'm not still playing volleyball or doing something else."
But Joselyn knows that motherhood is a full-time job. And she tackles that job with the same tenacity that made her such an outstanding high school and collegiate volleyball star.
"Her kids are so well-mannered and they're so cute," says family friend Lisa Wagner, the wife of BYU-Hawaii athletic director and men's basketball coach Ken Wagner. "She's always looking for ways to help her children learn and grow. And with all the things she does, she keeps a perfect house. I really admire the fact that she's been able to stand up for what she believes is right."
So right, in fact, that others have noticed, too.
This month, Joselyn will be named 2009 Hawaii's Young Mother of the Year. The award will be presented by American Mothers Inc. in a ceremony March 14 at Hale Ikena on Fort Shafter.
"The title is very humbling," Joselyn says. "I guess the recognition will hold me accountable. When the women came by to ask me, I told them I could definitely nominate 10 of my friends."
But the award seems fitting in the hands of someone who grew up locally and who always strives to be the best she can be.
"I'm such a perfectionist," she says.
That was true even back at Aiea High School, where the former cheerleader didn't play competitive volleyball until her sophomore year and then went on to become one of the best players in the state. She was outstanding in hula, too, and competed at the Merrie Monarch Festival for the Miss Aloha Hula title, finishing as high as second runner-up.
She played outside hitter for Dave Shoji's Wahine from 1993 to 1996 before graduating from UH in 1997 with a degree in psychology and later a master's in social work. When I asked her if she uses her psychology degree, she answers quickly, "Only with my children," and she laughs.
All kidding aside, it obviously works.
"Knowing that I have a family that depends on me and that is so loving and so forgiving, all that means so much to me," she says. "I want to provide so much every day. But I've learned that no matter how imperfect I am, they still love me unconditionally. That's amazing to me."
That's being a mom. And that's Joselyn Robins Akana, still amazing in every way, and now Hawaii's Young Mother of the Year.
Most Recent Comment(s):