Handing Out The 'Nice Guy' Awards

By
.(JavaScript must be enabled to view this email address)
Wednesday - December 23, 2009
|
Share

Del.icio.us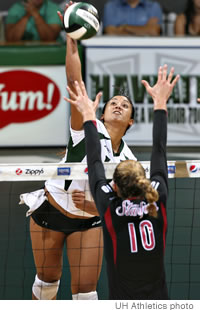 Aneli Cubi-Otineru plays way above the net
In the spirit of the holidays, it's time once again to honor those people whose positive performances have made an impact in local sports or in the world of this local sports fan. I call them the Bob Hogue/MidWeek Nice People Awards, and here are the recipients for 2009:
Dave Shoji. What can you say about a man who earned his 1,000th win and a trip to the NCAA Final Four in the same season?! How about… Let's do it again next year!
Cubi-Otineru family. What a volleyball family! One sister, Aneli, helped lead the UH to the WAC title and the NCAA Division I Final Four. Another sister, Kawena, helped lead UHHilo to the PacWest title and NCAA Division II tournament.
Amber Kaufman.What an amazing year for her! First, there was a WAC high jump title and a trip to the NCAA track and field championships, then a WAC women's volleyball title and a trip to the Final Four.
Bob Nash. One of the classiest things I've ever seen a head coach do in any sport was Coach Nash gathering the players from the University of Hawaii and Chaminade together at mid-court after their very close early December contest. Most coaches just shake hands and head to the locker room to worry about their own team. It was very classy of Coach Nash to acknowledge and show open respect for the strong play of his neighborhood opponent.
June Jones. There were some hard feelings around the island when Coach Jones left Hawaii for SMU two years ago. It's great to see him so successful in turning his new program around so quickly, always with the goal of getting back to the islands - for the Sheraton Hawaii Bowl. Good luck, JJ and the Mustangs, against Nevada on Christmas Eve at Aloha Stadium.
Courtney Gaddis. Not much is said or written about reserve players, but this former Kalani and La Pietra star walked on to the UH Wahine basketball team and continues to sparkle as a practice player and in an occasional reserve role. Her positive nature is a tremendous support to her teammates and coaches.
Cayman Shutter. Another practice player with a big heart is this former Punahou all-state quarterback. When Leilehua's Bryant Moniz was forced into starting signal-caller duties because of all the injuries at QB for the UH Warriors, he was still trying to learn the offense. Shutter, despite being only a freshman and essentially a rival for the spot, selflessly stepped forward to help his teammate begin to master the complicated schemes.
Alika Smith. I've always had a soft spot in my heart for the former Kalaheo and University of Hawaii basketball star. When I found out that he was being considered for the Punahou head coaching job, I was thrilled. When I heard that he landed the job, I was smiling from ear to ear. That smile could probably be seen all the way to heaven where Alika's dad, Pete, is looking down with tremendous pride.
Bill Villa, Darren Vorderbruegge, Ken Wagner, Dexter Irvin. The hard-working athletic directors of the PacWest make my job as a commissioner a joy every single day. Good luck to all the programs. And when you get a chance, come out to a game - the PacWest is great fun!
Neal Takamori. One of the nicest high school athletic directors on this or any other island, his professionalism and advocacy for physical education and for McKinley High School are a real asset to local high school sports.
Keith Amemiya. He's stepping down this year after more than a decade running the HHSAA. What a job he has done for our local high school athletes. I honestly don't think anyone could have done more.
Stacey Suyama, Lynne Madden, Pat Banning, MidWeek readers. Finally, I wanted to acknowledge Stacey and Lynne from Island Heritage/Madden Corp. for their hard work and help in publishing my new novel Sands of Lanikai; plus Kailua BookEnds owner Pat Banning for her enthusiasm in selling the book and displaying the cover art; and to all the readers of MidWeek who have helped Sands of Lanikai become a local bestseller already.
Thanks for being such Nice People! Merry Christmas and a Happy New Year!
Most Recent Comment(s):