Hawaii Hoops Season Is Hoppin'

By
.(JavaScript must be enabled to view this email address)
Wednesday - February 10, 2010
|
Share

Del.icio.us
A little bit about a lot of winter 2010 basketball:
I couldn't help but feel empathy for Hawaii's Bob Nash when I heard he sent his UH team home from the arena to the hotel after a recent road game while he walked the entire distance in 20-degree weather. He said he needed time to think and reflect.
Head coaches in the middle of a difficult season need that time. I recall a few years ago hearing about another local coach who ran all the way home after practice - a distance of nearly 10 miles, just to try to get rid of some of the stress.
I've heard of other coaches locking themselves in their office for hours afterwards, or finding other ways to get some alone time. It is stressful being a head coach - no doubt about it. Remember that the next time you're yelling at your TV screen while watching a game.

Dana Takahara-Dias makes me smile. What she has accomplished in her first year of coaching the UH Wahine is truly remarkable. That may seem odd to say for a team that is solidly ensconced in the second division of the WAC, but think about it: If somebody had told you that this year's Wahine team - with no recruiting class, a late hiring of Takahara-Dias, and an early-season injury to their top newcomer - would win 10 games this season, you'd have told them they were out of their minds.
Somehow, the former Moanalua High School coach has stepped up to the college game without fear and delivered on a promise that a former presidential candidate talked a whole lot about: hope and change. Good luck to the Wahine in their final home games: Feb. 10 vs. New Mexico State, Feb. 20 vs. LaTech, and Feb. 24 vs. Boise State.

Two of the best former high school basketball players have turned into two of the top young coaches in the state. Jesse Nakanishi of Kamehameha, a former standout for the Warriors in the '90s, and Alika Smith of Punahou, the former Kalaheo and UH star, have locked horns in two tension-packed games during this ILH season. Both have guided their No. 1- and No. 2-ranked teams to victories on their opponent's home court.
The teams feature the top two big men in the state, and both are underclassmen. Kamehameha has smooth-as-silk 6-foot-5-inch junior Micah Christenson, while the Buffanblu feature DeForest Buckner, a 6-foot-7-inch sophomore with incredible potential.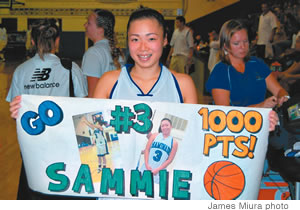 Chaminade's Samantha Saito set a PacWest scoring record
It won't surprise this basketball observer - or many other hoop fans, either - to see the Warriors and Buffanblu squaring off again for the rubber match come tournament time in early March. The state semi-finals and championship finals are set for Stan Sheriff Center March 5-6.

Two point guards at Chaminade are proving that height doesn't always matter - it's the size of the heart that makes the difference. Steven Bennett, nicknamed Steve-O, is a 5-foot 6-inch point guard for the Silverswords who is averaging nearly 20 points a game, and who knows no fear when taking the ball to the basket. And in the women's game, Samantha Saito is a 5-foot 4-inch senior from Sacred Hearts, who recently became the first four-year player in PacWest history to reach the 1,000 point plateau in career scoring.
Both Steve-O and Sammie leave their big hearts out on the floor every time they play.

Finally, there's quite a race brewing in the PacWest on both the men's and women's side. Hawaii Pacific University, with former Division I players CJ Jackson and Ray Murdock starring alongside high-scoring Mike Helton, have been putting up huge numbers in the men's basketball race. Meanwhile, Brigham Young University-Hawaii is getting healthy and putting on quite a charge at the contenders, with highly ranked Dixie State coming to town this week to battle all the contending Hawaii teams, including the Sea Warriors, Seasiders, Silverswords and UH-Hilo.
On the women's side, it's a battle to the wire between HPU, Dixie State, NDNU and three-time defending champion Grand Canyon. If you can, get out to a game this month to see some great basketball.
Check out www.pacificwestsports.org for more information.
Most Recent Comment(s):