Hawaii Winter Baseball Returns

By
.(JavaScript must be enabled to view this email address)
Wednesday - September 27, 2006
|
Share

Del.icio.us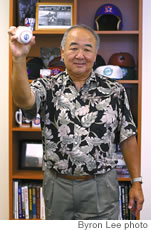 HWB director of operations
Clyde Nekoba
Clyde Nekoba remembers the first time he saw future Seattle Mariners superstar Ichiro Suzuki. It was in 1993, the first year of the brand new Hawaii Winter Baseball League. Nekoba was the Hilo Stars' general manager and Ichiro was one of several Japanese players assigned to his team.
"He had all the tools. And even though he wasn't very big, he had such strength and power," Nekoba recalls. "He could hit to all fields, and he had speed. Plus he had a tremendous arm. But if you asked me back then if I could have envisioned how well he has done, I would honestly tell you that I couldn't."
Still, Nekoba says there was something special about Ichiro - something he saw off the field.
"I used to take him to all the community events, the autograph signings and such," he says. "Even though he was learning English, he was such a witty person. He picked up on things quickly and got along with everyone."
Ichiro only spent a year in Hilo, before going back to Japan. It wasn't long before his talents were noticed stateside and he became a baseball legend in Seattle.
"I'm proud that he related later that Hawaii Winter Baseball was a launching ground for him," Nekoba says. "Because he was able to play against the great young players from the U.S., he was able to gain confidence. That was huge for him when he went back to Japan."
Today, 13 years later, great professional minor league players from Japan and the United States and Canada are hoping to use Hawaii Winter Baseball as a launching pad again. After a hiatus from 1998-2005, HWB is back again with four teams and a 40-day schedule beginning Oct. 1. Nekoba is now the league's director of operations.
"We'll open with two doubleheaders at 3 p.m. on the 1st," he says. "We've got the North Shore
Honu against the West Oahu Canefires at Hans L'Orange Park (in Waipahu) and the Waikiki Beachboys against the Honolulu Sharks at Les Murakami Stadium (in Manoa)."
Merchandising for the four teams was a hot-ticket item during the '90s. Hawaii Winter Baseball officials are hoping that the exciting merchandising items catch on again this time.
"I know we launched late. We had only three months to prepare," Nekoba says. "But I know that people are beginning to see that we're back. We need to give people time to get back into the fold."
Nekoba says the league will do that with great marketing and great young players. During the '90s, the league showcased the talents of future Major League stars such as Jason Giambi, Mark Kotsay, Todd Helton and more than 130 players who went on to reach the big leagues.
The 2006 rosters are also filled with many sure-fire future stars. One name you'll probably recognize is Koby Clemens, the son of future Hall of Famer Roger Clemens. Koby is considered the top third-base prospect in the Houston Astros system. He's been assigned to the North Shore Honu.
Another young gun is former LSU star Ryan Patterson, who will play for the Honolulu Sharks. Patterson is considered the best pure hitter in the Toronto Blue Jays system.
But Nekoba, who made a career in human services and as a social worker, says Hawaii Winter Baseball offers so much more.
"What's exciting for me are the social and cultural things," he says. "We're unique because we're international and we get to see a lot of Japanese players. What you see is that baseball is a common denominator around the world. The relationship between East and West gets crossed very quickly. At first, players use a lot of gestures, but then they really get to know each other. There's great camaraderie."
And who knows? Maybe there's another Ichiro in the making.
For more information on Hawaii Winter Baseball, see its website at www.hawaiiwinterbaseball.com or call 973-7247.
Most Recent Comment(s):