Hawaii's Pitch, Hit And Run Champ

By
.(JavaScript must be enabled to view this email address)
Wednesday - July 13, 2005
|
Share

Del.icio.us
Eight-year-old Mitchell Garcia of Kapolei will be watching this week's Major League Baseball All-Star Game with great interest. And perhaps a little bit of disappointment.
How close this young baseball star came to being there in Detroit is quite a story.
Young Mitchell just recently finished the third grade at St. Joseph's School in Waipahu. Quite a student, he landed on the honor roll and was named Most Outstanding Academic in his class for the second year in a row.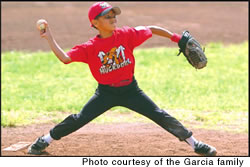 Mitchell Garcia won both the Hawaii and the
regional competition at San Diego's PETCO Park
Just how bright he is — and what a big sports fan he is — was demonstrated this past year when his father, Keith, a Honolulu-based television technician, entered his son in his adult Fantasy Football League. "He won the league championship," Keith says proudly.
Mitchell is also quite an athlete, playing flag football, junior golf and soccer. But his favorite sport is baseball. Mitchell stars as a third baseman and pitcher in the Minor Division of the Makakilo- Kapolei-Honokai Hale Little League.
"Pitcher is my favorite position," Mitchell says.
His mother, Mary, who works for the federal government, was quite aware of her son's pitching prowess when she came across a mention of the Pepsi Major League Baseball Pitch, Hit and Run contest in a newsletter at work. "I didn't know if it was only for military kids or what. I found out later it was open to the entire public," she recalls.
In any case, she didn't prep Mitchell at all. "He had a Little League game that morning and after the potluck, I told him we were going to a clinic," she says. "'What do I have to do?' he asked me. I told him it was just a chance to see how he did against other kids."
So, with no pressure and no expectations, Mitchell and Mary went to the local Pitch, Hit and Run competition at Aliamanu. Mitchell showed his running ability from second base to home, hit a baseball off a tee and pitched to a target about 45 feet away.
"He came in second in his age division (of 7- and 8-yearolds)," Mary says.
But Mitchell also won the pitching title. Mary was surprised to get a phone call later telling her that the pitching feat made her son eligible for the State Championships on Maui.
This time, the entire Garcia family traveled along. "I think Mitchell was most excited about Krispy Kremes being there," Mary remembers. "We had to make a stop there before we got to the field. The extra sugar must have done him good."
Mitchell didn't sugar-coat his effort. He overwhelmingly won the state title in his age group. The victory made him eligible for a trip to the Pepsi regionals in San Diego. That competition would be held inside a real Major League ballpark, PETCO Park, the home of the San Diego Padres.
"Hey, this is a dream. He's going to go on the field and rub elbows with Major League players," Keith remembers thinking at the time. "When we got there, the Padres treated us like royalty."
Three other Hawaii boys also qualified for the trip. All three saw their pictures on the Jumbotron and heard their names announced over the PA system. But only Mitchell would hear this announcement after the competition was completed:
"First place for the 7- and 8- year-old division, Mitchell Garcia of Kapolei, Hawaii!"
"We couldn't tell who was winning during the competition, (but) I was already screaming before they even got to his name," Mary recalls.
"It felt real good," Mitchell says.
His margin of victory was more than 200 points ahead of his nearest regional competitor, but unfortunately, he didn't find out until about two weeks later that he had fallen just short of making the cut for the All-Star Game in Detroit. "They only took the top four in the nation," Mary says. "I think he was a little disappointed, but considering we did this almost on a fluke, it was a great experience. Being there (in San Diego) was incredible."
Mitchell seemed to take the whole thing in stride. He was more than ready to prove that a young boy from Hawaii can hang with the best players in the world. "I was confident," he says.
And there's always next year. Watch for the name Mitchell Garcia.
.(JavaScript must be enabled to view this email address)
Most Recent Comment(s):
Commenting is not available in this weblog entry.