Hitting Weights Powers Wahine HRs

By
.(JavaScript must be enabled to view this email address)
Wednesday - May 05, 2010
|
Share

Del.icio.us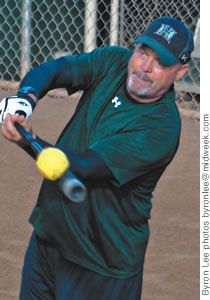 Like his players, Bob Coolen can crush the ball
The numbers don't lie. If you're a fan of the University of Hawaii, then you know that Bob Coolen's Wahine softball team is hitting those numbers out of the park this season - literally out of the park.
On their way to winning the WAC regular season title and earning a high national ranking, the Wahine have set a school and conference record for home runs in a season. They also have had the individual home run leader in the nation - Kelly Majam - and they have a full lineup of power hitters that includes Jessica Iwata, Melissa Gonzalez, Jenna Rodriguez and Amanda Tauali'i, each of whom have banged out double digits in four-baggers this season.
"You can't key on any segment of our lineup," says head coach Bob Coolen. "We're strong from one through nine."
If those numbers aren't impressive enough, consider that the Wahine have two .400 hitters - Iwata and Majam - and have scored 10 or more runs in nearly half of their conference games, topped by an incredible 20-0 victory on the road at Nevada late last month.
"The players are feeding off each other," says Coolen, who has impressive numbers himself. This is his 19th season at the helm in Manoa and he's already amassed well over 770 career victories. At this pace, he should easily reach the 800-win milestone in his 20th year of head coaching next season.
"It's fun to watch the players this season," he says. "They're really enjoying their efforts. We don't have anyone not looking forward to practice every day. Practice can sometimes be a grind, but this year nobody is dragging out there. Their eagerness is still there."
And what's not to be eager about? The Wahine started to explode late in the non-conference season and then began a long unbeaten streak when they hit the conference schedule. The key to their power surge began in the weight room, Coolen says.
"In the fall, we went beyond what we've done in previous years," he says. "We pushed ourselves to go past what we've done before - we didn't just stop at a certain plateau. We worked on everything - our legs and upper bodies - and that has developed strength and bat speed. This is by far the strongest team we've ever had."
Throughout this incredibly successful spring campaign, Coolen continues to stress weight training as a means to keep in shape during an arduous 50-plus game schedule.
"We continue to work in the weight room at least two days each week," he says. "We work on cardio and repetitions, so we don't feel soreness on game days. All of this helps sustain our strength."
Another factor in putting up the huge numbers is the bats the team has been using. The Wahine go with Easton bats and have recognized that sometimes the longer a bat's been around, the better it gets.
"It takes a while to break in a bat," Coolen says. "You can't just take it out of the wrapper and expect to start hitting well with it. You have to get it to its optimum level. All of our bats have been certified (and) we have some bats that are four years old, and some are two or three years old. Our players get comfortable with their favorites and we use the ones that are comfortable."
That comfort level then breeds confidence, and that ever-improving confidence produces the power numbers the Wahine have been building on all season long.
The next important numbers for this incredible team come later this month when the Wahine go to Las Cruces, N.M., for the WAC tournament and then on to the NCAA Regionals. The specific numbers to note are May 12-15 for the WAC Championships and May 21-23 for the NCAARegionals.
And if the Hawaii numbers keep lighting up the scoreboards like they have been all season long, it's not out of the question to consider the team's first trip to the NCAA World Series in Oklahoma City June 3-9.
Go Wahine! Keep those big numbers going!
Most Recent Comment(s):