Holden Blends P.E., Academics

By
.(JavaScript must be enabled to view this email address)
Wednesday - January 18, 2012
|
Share

Del.icio.us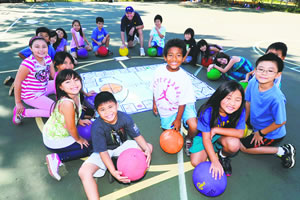 Tom Holden with Liholiho students. Nathalie Walker photo

.(JavaScript must be enabled to view this email address)
Tom Holden has found his dream job again. After retiring as the longtime Punahou athletic director two years ago, Holden, now 64, couldn't stay away from working with young people. So he's signed on as the part-time physical education teacher at Liholiho Elementary School in Kaimuki. And he's loving it!
"When you retire, you don't really know what you're going to get into," he says as we walk up the stairs to his third floor P.E. room at Liholiho. "When I graduated from Ohio State, my first job was teaching elementary P.E. and coaching football. Now, here I am again coaching football and teaching elementary P.E. This school is a gem!"
Holden was a volunteer assistant with the Punahou football team that went to the state championship game this year. Two days a week, he also guides the P.E. instruction of youngsters in grades two through five at Liholiho. He has a tremendous passion for the benefits of physical education.
"I saw this big headline on CNN this morning: 'Exercise Linked to Better Grades,'" he says, as he hands me a copy of an international study published in the Archives of Pediatrics & Adolescent Medicine. "Children who get more exercise tend to do better in school. Three of the four studies found that students given more exercise time scored higher on measures of academic performance," the report states.
"My primary goal is to get the kids' hearts pumping," Holden says. "You have to move, you'll sweat and you'll learn the basic motor skills. Most of all, we'll have fun," he says in a P.E. room now filled with hula hoops, plastic bats, rubber balls, jump ropes, cones and much more. "None of this was here two years ago. We've picked it up along the way. We move in my class; we don't sit still."
Holden praises principal Christina Small, who drops by the classroom for a visit.
"We're blessed to have Tom," she says. "The teachers and the kids love him. He brings so much energy to this."
Small and Holden are proud that Liholiho has just been named a National Blue Ribbon School for its consistently high reading and math scores.
"We want to help the whole child," Small says. "P.E. makes the whole child better."
As an example of Liholiho's commitment to exercise and creative learning, we watch a group of fourthgraders from Ryan Towata's class perform a math/physical exercise routine called "Drums Alive." The students incorporate physical fitness and activity with learning a core academic subject. They use wooden drumsticks to pound on exercise balls that sit on milk crates while they jump up and down and answer math questions.
"They get to work on mental math and cardio at the same time," Towata says. "I'm seeing a real improvement in focus and confidence."
After we applaud the brief performance in the P.E. room, Holden makes his point about the benefits of physical education.
"Sometimes we hear that P.E. is a curricular diversion. I see it as an integral part of a young person's education," he says.
No wonder Tom Holden is so excited about being back in the classroom again. He's helping youngsters and he's spreading the word about the importance of physical activity as an effective learning tool. He smiles broadly as we finish our visit at Liholiho. "Look around you," he says. "This is a happy place to be!"
Most Recent Comment(s):