Holidays Mean It's Camping Season

By
.(JavaScript must be enabled to view this email address)
Wednesday - November 30, 2011
|
Share

Del.icio.us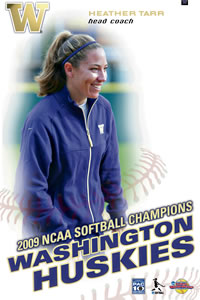 Heather Tarr will be back
If you're a soccer mom or dad, or a softball mom or dad, or a baseball mom or dad, and you're wondering what to do with your sports-hungry kids over the holidays, consider sending them to camp sports camp, that is.
A whole bunch of skills camps are on the holiday calendar locally. Now is the best time to get signed up.
* The first camp on the schedule is for your future softball stars, hosted by Chaminade University at Central Oahu Regional Park Saturday and Sunday, Dec. 17 to 18, with a coach's clinic Dec. 19. The morning camps are for players age 8 to 12, and the afternoon camps are for players 13-through high school. There are pitching sessions for both age groups in between, says camp organizer and Chaminade head coach Kent Yamaguchi.
The featured instructor for the two-day Elite Camp is a former NCAA Championship coach, University of Washington's Heather Tarr. "This is the third year, she and her staff have come here, and people can't get enough of her," Yamaguchi says. "She has such a passion for the game the campers and the coaches just love her!"
The two-day camp costs $99. A separate pitcher's session is $46; and the coaches dinner/workshop costs $40. You can get more information at goswords.com or by calling Chaminade athletics at 7354790.
* For your soccer wunderkinds, Hawaii Pacific's women's soccer coach Gina Brewer is putting on the Winter SeaWarriors Soccer Camp Dec. 19 to 21 at HPU's Windward campus field. The program is for soccer players between the ages of 5 and 12, and runs from 9 a.m. to noon on the Monday through Wednesday or .(JavaScript must be enabled to view this email address), or check out the school athletics website at goseawarriors.com.
* Finally, there are the always popular UH Baseball winter camps. Coach Mike Trapasso and his staff will hold two separate two-day camps and one three-day camp over the holidays.
The first of the two-day specialty camps is Dec. 19 and 20 and feature the specialties of pitching or catching or infield. Each specialty camp costs $100. The second specialty camp is Dec. 21 and 22, and is all about hitting. The cost for that camp is $200. A three-day all-inclusive camp is set for Dec. 26 to 28 and costs $300.
For more information on how your future World Series star can get involved, contact the UH baseball office at 956-6247 or email .(JavaScript must be enabled to view this email address).
Have a great holiday season, and happy camping!
Most Recent Comment(s):