Holy Zumba, That's A Workout!

By
.(JavaScript must be enabled to view this email address)
Wednesday - December 08, 2010
|
Share

Del.icio.us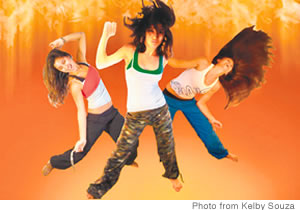 (from left) Joelle Souza, Kelby Souza and Lauren Kugle lead Zumba classes in Kailua
You may not consider Zumba a sport, but I'll tell you this: It will kick your okole!
"It's our 'football,'" says MidWeek reader Jeanette Lindsay, who invited me to a Zumba fitness class in Kailua to show just how tough it is. "We've had three of our ladies lose over 100 pounds," she says enthusiastically.
That caught my attention. I arrived early, not really knowing what to expect. The certified instructor is a 21-year-old University of Hawaii student, Kelby Souza, who does classes with her sister Joelle and her mother Corinne, along with friend Lauren Kugle.
Kelby says she didn't play sports in high school or college, but was "into dance at Mid-Pac. I started doing Zumba before it was popular - now it's all the craze," she says. Meanwhile, Lauren played soccer at Punahou, and both Lauren and Joelle ran cross country for the Buffanblu.
Kelby tells me not to worry about being a first-timer. "It's all about getting lost in the music," she says. "Pretty soon, you don't realize you're even working out."
Kelby says the Latin-based, dance-happy fitness regimen is catching on with athletes. She says Kalaheo football coach and former high school standout Kelii Tilton took the class and told her he thought it would be great cross-training for football players. This month, Kelby will teach a private class to two professional baseball players from Japan. "They're from the Fukuoka Hawks," she says. "One is a starting pitcher; the other was the stolen-bases leader." She adds that a Japanese TV station will be videotaping their work-outs.
The Zumba fanatics pile into the multi-purpose facility at St. Anthony's School, about 90 percent women, but a few brave men. Soon, there isn't a spot to be had. I pick my place close to the door - for a quick getaway.
I also meet Lani Jennings. "I lost 150 pounds," she says proudly. Lani, from Kaneohe, teaches kindergarten through second grade at Kapalama School. "Zumba totally changed everything in my life. I love it so much that I'm going to start teaching my own class!"
And then the music begins - loud, pounding and mostly with a Latin flair. But occasionally popular American hits and even a few Hawaiian songs are mixed in.
I can't follow the dance steps, but I've decided I don't care about that. "It's all about getting lost in the music," I remember. The participants are all having a great time, some staying in step better than others. I quickly realize that I have about five left feet, but I'm enjoying myself and getting a good workout.
"It's about balance and agility and building your stamina," Kelby says.
A website that I visited to do some background also says it gives you "passion, confidence, fitness and life." I can definitely see a lot of life in the class. Kelby energetically dances on stage with her helpers, and the class dutifully follows every movement with an occasional shout-out to build the voice muscles along with the legs, arms, neck, shoulders and every other part of the body.
"Being able to watch people transform themselves and begin to feel amazing from the inside out is priceless," Kelby says.
I'm getting tired, but I'm smiling. A few dancers take breaks along the way, but most of the class drives on from song after pounding song. "I see working moms, business people, athletes - you name it, they're here," she says. "It's great to see them motivating each other and helping each other reach their physical and personal goals."
An hour goes by, and I've worked every muscle in my body, it seems. I'm exhausted. The class cheers for itself, and the music slows down for a cool down. The Zumba fanatics smile and congratulate one another. Jeanette Lindsay walks by and says, "Tougher than football?"
I laugh and agree. Better yet, I decided to come back again. Zumba, I learned, can be habit forming. Find out more at zumba.com.
Most Recent Comment(s):