Honoring A Lifetime Of Paddling

By
.(JavaScript must be enabled to view this email address)
Wednesday - January 23, 2008
|
Share

Del.icio.us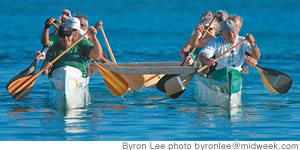 Anona Napoleon (left) and Richard Bell will be honored Sunday
My, how times have changed. Just ask Richard "Babe" Bell of Hawaii Kai, who grew up in Kaimuki and Waikiki in the 1940s and '50s.
"I remember we used to dive off the bridge at McCully and swim in the Ala Wai," he says. "The Ala Wai was clean in those days."
My, how times have changed. "In the evening, we would be paddling and we could hear slapping and flapping sounds on the water. It turned out to be the stingrays coming at night," he says.
Oh my, how times have changed!
Bell, who has been paddling for clubs since the age of 13 - he started way back in 1953, "so long time," he says - and who has been a proud Hawaii waterman for more than half a century, will be honored alongside surfing and paddling great Anona Napoleon in ceremonies at the 23rd annual Ala Wai Challenge this Sunday morning, Jan. 27, at the Ala Wai Park and Clubhouse.
Both Bell and Napoleon remember a simpler time in Honolulu and around Oahu. Both have become legendary local watermen and have perpetuated the legacy of native Hawaiian canoe racing in our community.
Napoleon, the wife of the legendary Nappy Napoleon, was a surfing great in the late '50s and '60s. Her biggest trophy came when she won the prestigious 1960 surfing championship at Makaha Beach. She went on to raise five sons, who, like their father and mother, were all champion paddlers.
"She's been doing surfing and paddling all her life," says her proud husband, Nappy. "And in kayaking, she was the first from here to try for the Olympics."
Bell has paddled with the Napoleons, too, in a long and distinguished career in the water. He's been the state championship coach of the Iolani School canoe paddling team - for 36 years! - and a longtime coach and paddler for Healani and Anuenue canoe clubs. Along the way, he's been on winning crews in the world-renowned Molokai Ho'e, the grueling 41-mile race across the treacherous Kaiwi Channel.
"Once, back in the '60s, we had waves well over 20 feet high out there. It was huge, just huge," he recalls. "I've never seen it that rough since."
Bell is old enough to remember when all the clubs paddled with koa canoes. "There was no fiberglass then. Everything changed when fiberglass came. The sport really took off," he says.
Yes, how times have changed. But one thing doesn't change. For the past 46 years, Bell has been blowing the conch shell nightly at the Ilikai Hotel. He's still there - every day. "It's a privilege and an honor," he says.
And it's an honor for the local community to celebrate the lives of Babe Bell and Anona Napoleon at the Ala Wai Challenge this Sunday morning. The event also features a quarter-mile outrigger canoe race on the Ala Wai, including a tribute race to the late Michael Tongg, who passed away this past year after many years as the race coordinator. All this, plus ancient Hawaiian makahiki games, including ulu maika (bowling a round stone), o'o ihe (spear throwing), moa pah'e (dart sliding), pohaku ho'oikaika (stone throw) and huki kaula (tug of war). There also will be hand-made crafts, entertainment and food concessions. Admission to the event, which runs from 8 a.m. to 1 p.m., is free.
The event benefits Waikiki Community Center, which has been serving approximately 15,000 people each year, from young keiki to seniors. Hopefully, with your attendance and support, those important times will never change.
Most Recent Comment(s):