Hooping It Up In The White House

By
.(JavaScript must be enabled to view this email address)
Wednesday - January 21, 2009
|
Share

Del.icio.us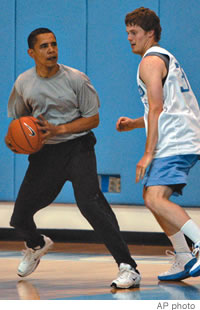 Barack Obama scrimmages against University of North Carolina's Jack Wooten during the campaign last April
I'm writing this week's column from Washington, D.C. I wish I were here for the inauguration, but truth be told, I'm in the nation's capital for the annual NCAA Convention.
Ironically, the fact that I'm here for sports reasons seems fitting, especially since our new president, Hawaii's own Barack Obama, is
arguably the most athletic and perhaps the most athletically akamai incoming president the office has ever seen. If that statement seems over-the-top in provincial adulation, read on.
In the days leading up to his swearing-in ceremony, Obama chimed in on the national college football debate - he's for a Division I playoff rather than the BCS. He called his brother-in-law, Craig Robinson, the head coach of the Oregon State basketball team, to congratulate him on a milestone Pac-10 victory, and he kept himself physically fit on his Hawaii holiday vacation by working out regularly at Marine Corps Base Hawaii, touring the golf links at Olomana, and playing pick-up basketball with old friends at Punahou.
"He's in great shape; he can run people off the court," reported former high school teammate and current Buffanblu head coach Dan Hale in a local radio interview about his recent games with the then president-elect.
Hale wouldn't reveal the scores, but noted that Obama was very competitive and could put the ball in the basket from all over the court. The radio interviewer joked that he had heard that "Barack Obama was a better player than Barry Obama."
That statement, which was said in jest and is no way disrespectful, actually reveals just how important physical fitness and athletic growth is for the new president.
Old friends remember him tirelessly shooting hoops at Washington Intermediate School's outdoor courts a couple of blocks from the apartment where he grew up. Those who knew him then said the young left-hander had a sweet mid-range jump shot and a nice double-pump drive to the basket. At Punahou, his offensive prowess made him a key reserve on a state championship team coached by Chris McLachlin and starring future college stars Hale and Richard Haenisch, among others. In college, Obama led Occidental's junior varsity team to an unbeaten record before he moved on to academic pursuits at Columbia and Harvard.
Those exploits alone don't necessarily equate themselves to all-time-greatest-athletic president status. He's not George Washington tossing a silver dollar across the Potomac (yes, I know that's a myth), or rail-splitting Abe Lincoln (not a myth), or even all-American football lineman Gerald Ford (at Michigan in the 1930s, long before he became known for his errant golf shots).
And several 20th century presidents were former athletes - Theodore Roosevelt built a boxing ring in the White House and advocated for safety in college football in a movement that eventually led to the formation of the NCAA; Dwight Eisenhower (West Point), Richard Nixon (Whittier) and Ronald Reagan (Eureka) all played college football; George H. W. Bush played college baseball on a College World Series team at Yale; and John F. Kennedy was well-known for his highly competitive backyard touch football games. Most recently,
George W. Bush was the former co-owner of the Texas Rangers.
Many of those former presidents also were big fans and supporters of specific sports, in addition to their athletic resumes.
On the surface, those credentials might seem to outweigh the athletic exploits of the 47-year-old Hawaii native. But what sets Obama apart from all of them is his continuing devotion to daily athletic workouts. Those who viewed the world-famous snapshots of the president-elect shirtless on Kailua Beach or bodysurfing at Sandy's last August, don't have to be reminded of what kind of shape he's in. No other incoming president in history has looked that good.
The question is now - especially with the weighty problems of the world on his shoulders - is can President Barack Obama continue keep himself that athletically fit? Will he have the time to devote an hour or more of his day to a strenuous workout? Most importantly for all us hoop lovers, will his obsession for pickup basketball games lead him to turning the White House athletic facilities into a half-court gym?
And finally, if the last question gets answered affirmatively, can I get an invitation?
Most Recent Comment(s):