Hot Times In Hawaii Hoops Heaven

By
.(JavaScript must be enabled to view this email address)
Wednesday - February 06, 2008
|
Share

Del.icio.us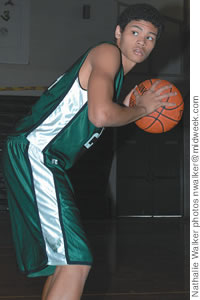 Marcus Holyfield of Mid-Pacific
A little bit about a lot of basketball:
I've been watching a great deal of hoops lately. I'm very intrigued by the race for the state high school basketball title. After a recent ILH boys contest between third-ranked Iolani and fourth-ranked Kamehameha, Raiders 6-foot-6-inch center Taylor Mounts told me "It's wacky! It's like the BCS - anybody who gets ranked No. 1 gets knocked off."
How true that is! This year, Iolani, Punahou and Kalaheo have all traded times at the top, and it's obvious there's no clearcut favorite for the title.
Traditionally strong Iolani has split games with Kamehameha, and both beaten and lost big to Punahou. Going into the final week of the ILH regular season, the title was still up for grabs with an extra game for the league championship a real possibility.
Since the ILH's top two finishers gain automatic berths into the state tournament, the league's third-place tournament might be one of the most dramatic events of the entire season. Kamehameha, St. Louis, Maryknoll and Mid-Pacific (along with league leaders Iolani and Punahou) have all been ranked in the state's Top 10 at some time or another this year, and any one of these teams is capable of pulling off a huge upset.
Just ask fans of the Mid-Pacific Owls. Not only did the Owls beat OIA-leader Kalaheo by double digits in the pre-season, but they also ripped then top-ranked Punahou by 18 points late last month. In that big victory over the Buffanblu, the Owls blistered the nets at more than 80 percent field goal shooting in the first half and ended the game with an incredible 75 percent shooting night!
Not since Villanova beat Georgetown for the NCAA title a couple of decades back has anyone recalled a shooting effort like that in a big game.
The Owls most dangerous player is Marcus Holyfield, who torched the net for 34 points in that contest. If Holyfield's name sounds familiar, it is - his father is a first cousin of former heavyweight boxing champion Evander Holyfield.
No wonder Holyfield is looking to score a knockout punch every game the rest of the season!
Meanwhile, Kalaheo might have the best shot at leading the OIAto its second straight state title. (Kaimuki, of course, won it last year with an upset victory over tourney favorite Punahou.)
The Mustangs not only have tradition of winning on their side, but also one of the most prolific shooters in the state. Cheynne Lishman has been lighting up the scoreboard for the past couple of seasons, and there's no reason to expect a drop-off in scoring from the talented Mustang guard once the OIAand state tournament gets under way.
On the girls side, the Big Island will try to make it two titles in a row with defending champion Konawaena, along with Hilo and Waiakea contending. The OIA has a couple of stalwarts in Radford and Kalani, and you can never count out Roosevelt. But it appears that the most likely title game participants will be Iolani and Punahou.
Not only have the Raiders and Buffanblu traded time at the top of the Top 10 rankings, but they've also traded victories this season. Iolani is led by 6-footer Jamie Smith, who is a threat to earn a double-double every time she takes the court. She also might have revenge on her mind - the last time the two teams met she suffered a broken nose and a concussion. The Raider faithful are hopeful that she's at full strength once the tournament season gets under way.
ILH champion Punahou has a terrific trio of twins Shawna and Shaena Kuehu and point guard Janelle Nomura. All three have overcome injuries over the past two seasons, so the Buffanblu are also hopeful of perfect health for the big tournament run.
If that's not enough great basketball for you, Chaminade tries to keep its incredible victory string going in the PacWest. Matt Mahar's so-called "Giant Killers" have been nothing short of brilliant this season - with a fear some fivesome of 7-footer Marko Kolaric, 6-foot 7-inch Rodrick Johnson, Hayden Heiber, Stewart Kussler and three-point specialist Mike Green.
But they've got a formidable obstacle directly in their path this week. Powerful BYU-Hawaii, with high-scoring Lucas Alves and Paul Peterson, comes to McCabe Gym to take on the Silverswords in a game that will be televised statewide by OC-16. The contest, part of a doubleheader with the two women's teams, is set to start Wednesday, Feb. 6 at 7:30 p.m. -the women's game begins at 5:30 p.m.
All of these games - and all of these possibilities - make me realize that February will rival March for many nights of basketball madness.
Enjoy the games!
Most Recent Comment(s):