Inspired By Our Sports Heroes

By
.(JavaScript must be enabled to view this email address)
Wednesday - January 07, 2009
|
Share

Del.icio.us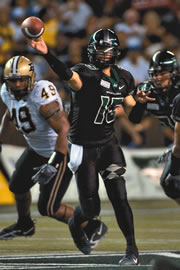 Colt Brennan: a role model in commitment and loyalty
This year, I want to be like Bryan Clay.
In 2008 and the years leading up to it, Clay had a singular vision and a singular goal - being the best decathlete in the world and winning the Olympic Gold Medal. Nothing could stop the former Castle High School Knight from achieving greatness. Nothing.
Bryan Clay proves that single-minded preparation can beat anything.
This year, I want to be like Timo Donahue.
In 2008, Donahue took his Waipio Little League All-Star team to Williamsport, Pa., and instead of stressing out on winning, he let his players have fun. Because his relaxed team had already established the ground rules for success in its months and months of well-schooled preparation, he knew that nothing could stop them from achieving their ultimate goal. Nothing.
Timo Donahue proves that having fun and staying relaxed is often the final piece in the puzzle to success.
This year, I want to be like Colt Brennan.
In 2007, Brennan turned down an early chance to go to the NFL and stayed in school for an incredibly memorable senior season in which he led the University of Hawaii to an unbeaten regular season. Nothing could stop the Warrior gunslinger from being with his teammates through the heat of battle. Nothing.
Colt Brennan proves that commitment and loyalty trumps the almighty dollar. Positive thoughts bring about positive actions.
Certainly, I'm not suggesting I'll win an Olympic gold medal or a World Series Championship or lead the nation in passing in 2009. But I can use these outstanding Hawaii role models to set up my own New Year's resolutions. That's what making these annual resolutions is all about: Making goals that are attainable and realistic, seeing a positive result through perseverance and commitment, then doing everything in your power to try and attain them - while at the same time, remaining calm and relaxed and having a little fun along the way.
Clay, Donahue and Brennan prove that everything is possible if you push yourself and follow through.
In 2009, I've set three major goals for myself: (personal) losing weight and keeping the pounds off by increasing my physical activity and decreasing my "bad food habit" intake; (professional) continuing to strive to be the best PacWest commissioner, MidWeek columnist and part-time broadcaster I can be; and (creative) finally publishing the fictional novel I've been writing for the last few years.
If I can remember my role models and stick with my resolutions every day, by the end of the year you should see a slim-mer, sleeker version of me, with stories about the expanded success of the PacWest and MidWeek and, hopefully, a copy of my novel, Sands of Lanikai, on local bookshelves.
Guaranteed, I'll have fun trying to accomplish all of these goals.
This year, I want to be like my brother Don, a former Stanford University baseball player. In 2008, my younger brother - the one with all the hair and good looks in the family - set as his resolution the goal of running 2008 miles in one year. He not only accomplished his feat - by running an average of approximately six miles every day! - but he made his goal right around Halloween. This year, my 43-year-old brother's resolution is to run - you guessed it - 2009 miles, perhaps even faster.
Don Hogue proves that commitment pays off. And nothing's going to stop him.
Finally, this year, I want to be like my daughter Jesica, a former Iolani kayaker and paddler. In 2008, after struggling to start her college career almost seven years earlier, Jes graduated with honors from Wichita State University. This year, she's well on her way to earning a degree as a dental hygienist.
In 2008, Jesica Rothwell proved that perseverance pays off. Nothing stopped her.
In 2009, I'm going to do it, too. Remind me - on occasion, I may need a little positive push. I don't want anything stopping me either.
Most Recent Comment(s):