Introducing The New Commish

By
.(JavaScript must be enabled to view this email address)
Wednesday - July 25, 2007
|
Share

Del.icio.us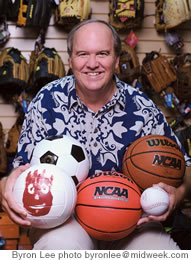 In his new role, the author will have a lot of balls in the air
My first few days as Commissioner of the Pacific West Conference have gone by like a whirlwind. There have been meetings and phone calls and press conferences. To say the least, it's been very exciting.
I'm both thrilled and humbled to have this opportunity to lead this great conference. I've been excited to meet both old and new friends at Hawaii Pacific, Chaminade, BYU-Hawaii, UHHilo, Dixie State, Grand Canyon, and Notre Dame de Namur.
I've known Ken Wagner of BYU-Hawaii for years. The dean of the PacWest athletic directors is also one of the top basketball coaches in the NCAA Division II ranks. He's taken those skills to China this week where he's involved in a coaching exchange program. Many of the coaches who learn from Wagner in China this summer plan to visit Hawaii to watch PacWest coaches at work this next season.
Kaia Hedlund, the director of athletics at Chaminade, is another old friend. Hedlund not only leads the athletic fortunes of the Silverswords, but is also a leader in the MPSF volleyball conference, and USC's "Swim With Mike" program, helping raise millions of dollars for physically-challenged student-athletes. The former University of Hawaii assistant athletic director is also an outstanding swimmer and continues to swim competitively at the master's level.
I've gotten to know Darren Vorderbruegge of HPU over the past several months, first as the Sea Warriors head men's basketball coach and now as the school's athletic director. Coach Vord, as we like to call him, is a real family man. When he's not coaching basketball or guiding HPU athletics, you'll see him cheering on his son Dawson, who was one of the state's top long-distance runners this past track season at Kaiser High School.
I've also enjoyed meeting new friends, such as Kathy McNally, the AD at UH-Hilo, and ADs Josh Doody of Notre Dame, Dexter Irvin of Dixie State and Keith Baker of Grand Canyon.
The UH-Hilo Vulcans have built up great rivalries with the PacWest schools on Oahu for many years. I'm looking forward to my trips to the Big Island, where Vulcan sports have always enjoyed tremendous followings.
Notre Dame de Namur, located in the Bay Area in Belmont, Calif. has an island connection. Former Kailua High School basketball great George Puou is the head coach of the Argonaut's men's basketball team.
Dixie State of Utah begins its first full-year of travel to the islands and Hawaii teams will also get their first visits to St. George, Utah, a community in southwestern Utah that is one of the fastest-growing areas in the country.
Grand Canyon University is located in Phoenix, and has built up a tremendous reputation in sports over the years. Last year, in their first full season in the conference, the Antelopes blazed to four PacWest titles, in men's and women's basketball, men's golf, and a co-championship in men's soccer.
The 2007-2008 athletic season begins with the fall sports of women's volleyball where PacWest teams have been traditional national powerhouses. Men's and women's soccer begins with Notre Dame trying to defend its titles. Men's and women's cross country also begins in earnest with the conference looking for another All-American after the exploits of last year's champion Todd Iacovelli of Kailua.
The bottom line is that it's going to be an exciting year ahead in PacWest sports and a thrilling challenge as the league's new commissioner. I'm hitting the ground running and I hope to run into you as a future supporter of Pacific West Conference sports.
See you at the games!
Most Recent Comment(s):
For all comments click here.