Iolani's Lightning Bolt In A Bottle

By
.(JavaScript must be enabled to view this email address)
Wednesday - October 10, 2007
|
Share

Del.icio.us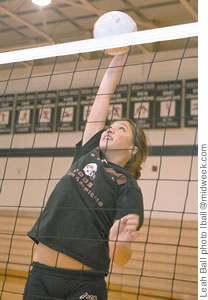 Iolani outside hitter Leinani Keanini
Imagine a bundle of energy so strong it's like lightning in a bottle. That's how you describe Leinani Keanini, the all-state outside hitter for the top-ranked Iolani Raiders girls volleyball team.
From the moment she steps on the court, she fires up both herself and her team with enthusiasm.
"I want the ball so much," she says.
And her Iolani teammates get it to her. She's just 5 feet 7 inches tall, but she plays like a giant when the Raiders need a point. It doesn't matter where she is in the rotation-back row, front row or on the outside - Keanini will find a way to get it done.
I watched her in a recent match score from virtually everywhere, taking a set to the middle of the back row and arcing it over the net into the far corner of her opponent's court. Moments later, she was serving up an ace, then after eventually rotating into the front row, she was winning a joust at the net.
But where Keanini is strongest is hitting from the outside. She has very good leaping ability and an even stronger arm swing. When the game is on the line, you can count on the Raiders finding ways to get the ball to their multi-talented senior outside hitter.
"I get really excited when the game is close," she says. "I can feel the energy out there and it inspires me to do better."
Keanani and her Iolani team-mates have been the talk of the local high school volleyball world this season, especially after they knocked off powerhouse and nationally-ranked Kamehameha in three grueling sets last month at Iolani's gym. It was the defending state champion Warriors first loss in a year.
"I wanted that win so bad," Keanini hollered enthusiastically after that match. "It means so much."
But as talented as she is, Keanini knows full well that she doesn't do it alone. The motto at Iolani is "One Team," and her teammates also mean so much to her - teammates such as her fellow senior co-captain Lauren Minkel, senior libero Lauren Ching, plus her sophomore setter Mail'e Yoon, and all the rest of the members of this outstanding Raider team.
"We have such great chemistry; there's a special bond between us," she says. "We work really well together."
That togetherness shows both on and off the court. "We love being together. We do our homework together, we talk and we share things, even private stuff. It makes us really want to help each other."
Iolani's first-year head coach Jenic Tumaneng sees that as one of the big reasons for the Raider power surge this season.
"She's always encouraging her teammates, and that makes a big difference," he says.
Tumaneng also says that Keanini gives his team "consistency," and that helps during the natural ups and downs of every match. But when the game is on the line, he knows to whom he'll turn.
"We're going to the big guns," he says - meaning the outside hitter with all that stored up energy.
That means Keanini will come screaming in from the left side, and with all the energy she can muster, she hammers down yet another monstrous kill.
"I love the game itself," she says. "Playing with my team-mates and working together is so exciting."
Keanini, who lives in Lanikai, will take all of that talent and energy to the University of San Francisco next year. She accepted a full-ride scholarship to play for the Lady Dons after this past summer's winning experience with the ASICS Rainbows Hawaii club team. That team finished fifth at nationals.
She's hoping to finish first in the state next month when the HHSAA state championships are on the line in Hilo. Just look for lightning in a bottle - Iolani's Leinani Keanini.
Most Recent Comment(s):