I's Good To Have UH Baseball Back

By
.(JavaScript must be enabled to view this email address)
Wednesday - March 03, 2010
|
Share

Del.icio.us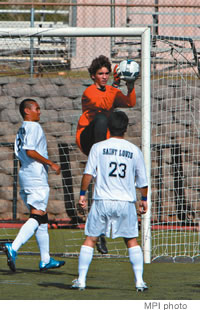 MPI goalie Derek Fallon makes a save
How many times have you seen the following scenario in a baseball game? A player makes an outstanding play in the field to end one half-inning, and then ends up being the first guy up in the batting order the next half-inning!
Baseball fans will tell you it happens more times than it seems statistically possible. Perhaps there is some kind of adrenaline a player gets in the field when he's thinking about his upcoming at-bat the next inning. There's got to be a reason why it happens so much - as one effort seems to pump up the other.
I saw it again this past week while in the stands at UH's Les Murakami Stadium. First, in the field, it was former Kamehameha standout freshman Pi'ikea Kitamura making a diving stop to rob an opposing player of a base hit. Then after a receiving a nice ovation for that inning-ending play, Kitamura comes up to lead-off the next inning - prompting another ovation - and then drills a shot into the corner to start a Rainbow rally, earning yet another ovation. Three cheers!
* I sat with Dennis Agena in the stands the other night while watching a boys basketball playoff game. Sitting next to the longtime coach and originator of the prestigious Kalakaua Clinic was a true joy - and a learning experience, too.
Coach Agena notices the little things that make a game interesting and even more exciting. He sees the nuances in ball-handling or shot selection or offensive and defensive strategies that some fans might not see on their own. Plus, he knows many of the players personally - having watched them grow up and learn proper hoop skills in his clinics.
Over the years, he's coached so many great local players - both boys and girls - it's hard to keep count. Look for Coach Agena in the stands when you're attending the HHSAA boys basketball tournament this week. The semifinals and finals are set for the Stan Sheriff Center, March 5-6. If you can, grab a seat nearby, you'll learn something, for sure.
* Congratulations to the Mid Pacific Owls, who made history this year in high school boys soccer. The Owls, coached by Jayson Abe, became the first Division II school to claim the ILH regular season championship. Then, the senior-laden lineup - led by state tournament most outstanding player Rex Meier and all-tournament goalkeeper Derek Fallon - doubled its accomplishment by winning the HHSAA Division II state championship while shutting out their opponents in three straight tournament games to win the title.
It's always exciting to see some of the smaller schools in town do so well, and it's yet another reason why Division II has been such a worthwhile concept.
* I commented in last week's column about the volleyball playing prowess of Dave Shoji's two sons, Erik and Kawika, who both star for Stanford. It's interesting to note that one of Shoji's former assistants, Dean Nowack, has a son who may one day become a college star, too.
You'll recall that Nowack was the assistant when Shoji and crew were winning all those national titles back in the 1980's.
Now Dean and wife Marci Wurts Nowack - she's a former Wahine - have a son, Logan, who is a 16-year-old junior setter at Iolani, and has been all-state since his freshman season when the Raiders won the state title.
But Logan may have his choice of college athletic scholarships when his high school days are over. He's become an outstanding soccer goalie, too. This past season, after having not played soccer since his elementary school days, he moved over from the Iolani fall kayak team and immediately made his presence known in goal for the Raiders this winter. The 6-footer showed his quick feet and hands by helping lead Iolani all the way to the state title game where they eventually fell to Punahou 1-0 in a defensive-minded Division I finale.
Watch for the name Logan Nowack.
Most Recent Comment(s):