Island Athletes: On The Road Again

By
.(JavaScript must be enabled to view this email address)
Wednesday - June 02, 2010
|
Share

Del.icio.us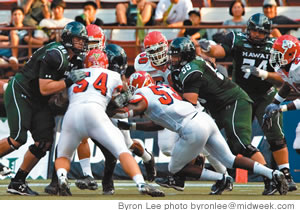 Big guys like UH football's Adrian Thomas (6-foot-6, 310 pounds), John Estes (6-foot-3, 300 pounds) and Raphael Ieru (6-foot-2, 315 pounds) can really fill up an airline seat
I'm sitting in the airport as I write this, flying off to another conference meeting and then on to an NCAA tournament. Across the terminal from where I'm waiting at my gate, another Hawaii athletic team is patiently awaiting its signal to begin the boarding process.
There's three words that are a way of life for Hawaii athletes: airports, waiting and patience.
It's the game outside the lines for several Island teams throughout each athletic season.
Because we live in the 50th state, all of our collegiate teams - from the PacWest to the University of Hawaii - log more miles than just about any other collegiate squads in the nation, with the possible exception of the universities located in Alaska.
Just think how much time that means spent in and around airports. The University of Hawaii baseball team, for example, has spent hours and hours at airports and in planes, flying several times to Southern and Northern California, to Arizona and all the way to Louisiana this season. That's tens of thousands of miles.
Next fall, the UH Warrior football team will fly from Honolulu all the way to New York City and then get on a bus to West Point, N.Y., to take on the Army Cadets. Then, it's onto another flight to Denver and the subsequent drive to Boulder, Colo., to take on the University of Colorado Buffaloes, and then it's back again to the Islands. That's about 12,000 miles over a period of about 10 days.
One of the lengthiest trips by any local college team this year - in terms of air miles, airports and states involved - was logged by the PacWest champion Hawaii Pacific baseball team. The Sea Warriors flew from Honolulu to Las Vegas and then got on a bus to St. George, Utah, for the two-hour drive to Dixie State for a five-game series over three days. Then they drove back to Las Vegas and flew to San Francisco for a three-day, five-game series against the Academy of Art. Then, it was back on the plane again for a flight to Boise for a four-game series against Northwest Nazarene in Nampa, Idaho. If you're keeping score, that's 14 games in 12 days in four states and three airports.
Now, that's called being true Road Warriors. (By the way, HPU went 10-4 on the trip, and it was one of the reasons it became the first PacWest team ever selected for the NCAA regionals, where they were asked to jump on another plane - this one bound for Los Angeles - and eventually reached the regional finals before being eliminated.)
All this time spent in airports or on planes or buses can be a taxing experience. So what do today's student athletes do to idle away the time? Many listen to music on their i-Pods or other electronic devices; some play cards; some bring textbooks to study or help them write term papers; others find a fun book to read; some work on their laptops or watch videos; some play video games or sing songs together - and many just curl up in the most convenient location and try to catch some valuable shut-eye.
It's not easy being on the road.
It's perhaps toughest on the tallest in the crowd. Any athlete with long legs, or standing over 6-foot-4 or so is going to find it rough on the knees pretzling himself into the tiny spaces offered up in most airline economy seating these days.
I still can visualize former Rainbow basketball star Tony Maroney - all 7 feet of him - trying to find enough room for his long, long legs in the back of the plane. Some airlines try to accommodate the tallest athletes, if possible, with exit row seating or something similar, but all too often these giants of the game just have to endure the inconvenience.
Being 7 feet tall is one challenge. But during the football season, imagine being a 340-pound offensive lineman - that can be an especially crunching experience.
Some student-athletes bring reminders of home to keep them company on long trips. I have another vivid memory of former Wahine all-American Heather Bown carrying her stuffed Eeyore as she got off the plane following another long road trip. Seems like having Eeyore - or other comfortable creatures - is just the thing to keep the mind off the inconveniences, long hours and occasional boredom that go along with life on the road.
Finally, the travels for the University of Hawaii, Chaminade, HPU, BYU-Hawaii and UH Hilo are all made that much nicer if they accomplish that one common goal - that is, a hard-fought victory on the road. Winning makes airports and traveling seem like no problem at all.
Most Recent Comment(s):