Isle Wahine Rule SoCal Beach

By
.(JavaScript must be enabled to view this email address)
Wednesday - August 22, 2007
|
Share

Del.icio.us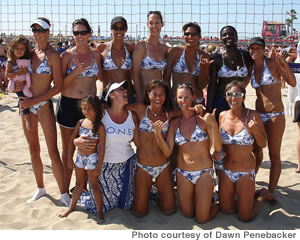 Pualani Hawaii (front from left) Kailia Lopez, South Sharman, Bertha Hayashi, Linda Nelson and Adrian Resuello (back) Lani and Kristal (Atwood) Lopez, Lisa Rapps, Dawn Penebacker, Lauri Zagzebski, Chastity Nobriga, Kim Willoughby and Nikki Scherman
When Dawn Penebacker helped lead the Hawaii Pacific University women's volleyball team to an NCAA Division II national title in 1998, she probably never thought that she would be playing for yet another prestigious title in 2007.
But Penebacker, who turned 30 in June, never lost her lust for competition, playing as often as three times a week in beach volleyball gatherings at Queen's Beach at Waikiki.
"We have a small women's beach volleyball community here and we play for fun," she says.
Earlier this month, that fun turned serious.
Former University of Hawaii Wahine star Kristal Atwood, now Kristal Atwood Lopez and living in Torrance, Calif., kept in touch with Penebacker and several local players and asked them to join her for one of the largest beach volleyball tournaments in the nation, the Surf Fest 6-man Beach Volleyball Tournament in Manhattan Beach.
"It's part of the International Surf Festival and she had played in it for years," Penebacker says. "It was the last minute, and she called us and asked if we would come over to play."
Besides Atwood and Penebacker, four other players with Hawaii ties answered the last-minute call - former Wahine standouts Chastity Nobriga and Kim Willoughby, plus Iolani assistant coach Jan Resuello and Washington Intermediate School teacher Bertha Hayashi. A couple of California girls filled out the roster.
"We thought we'd go over and enjoy," says Penebacker. "We had no idea how big it was."
Emphasize the word BIG!
Eighty women's teams joined more than 100 men's teams for a weekend that had virtually the entire Southern California volleyball community in attendance. "It was quite a spectacle; there were over 10,000 people on the beach," Penebacker says. "It was quite a shock!"
Besides the shock of the huge fan interest, the team of local girls - dubbed Pualani Hawaii for a local swimsuit designer that sponsored the team - had no true setter and they never got a chance to practice together. Meanwhile, the competition was fierce, with former players from UCLA, Long Beach State and Stanford - including former Player of the Year Debbie Lambert.
"We didn't expect to win. We just were going out there to have fun," Penebacker says.
But the competitive juices got flowing and the Hawaii girls got going. "Chastity and Jan rotated at setter, I played the middle, and Kim and Kristal were our outside hitters," she says. "We had a slow start (due to the lack of practice together), but we started to turn it around."
And on the hot sand of Manhattan Beach, Team Pualani Hawaii began to win - and win some more. By the second day, they were in the finals. "It was so unexpected," Penebacker recalls.
Ironically, former UH Wahine star Cheri Boyer, who lives in Southern California, was on the opposing side of the net. "Her 15-year-old daughter was also on the team," Penebacker says. "And she was very talented."
Boyer's California girls were dubbed Guns and Lace. The huge crowd was definitely pro-California. "The crowd was not on our side," Penebacker recalls. "They got up real close to the end-lines and there was lots of heckling going on."
But the Hawaii team had an answer to all those California trash-talkers. Pualani Hawaii pulled together and overpowered their California opposition to win the title.
"The crowd got really quiet and the heckling definitely stopped," Penebacker says with a smile. Afterward, as this last-minute team gathered at Atwood's house for a post-match celebration, she had more to smile about.
"Kristal's 5-year-old daughter (Kailia) came up to her and said 'Mommy, did you win a medal?' The greatest thing was watching Kristal giving her daughter the medal. It made us proud to be from Hawaii to show what Hawaii volleyball is all about."
In Hawaii volleyball circles, the winning never stops and championships just keep on coming. Penebacker says her team probably won't be so last-minute next year.
"I'm sure we'll be back."
Most Recent Comment(s):