It Should Be Nash's Time At UH

By
.(JavaScript must be enabled to view this email address)
Wednesday - January 10, 2007
|
Share

Del.icio.us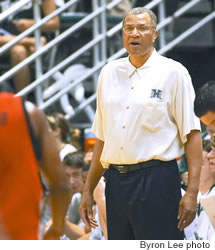 Bob Nash: Paid his dues and ready to take
over
Two decades ago, Stan Sheriff made the biggest mistake of his tenure as the University of Hawaii athletic director. He hired Frank Arnold as Hawaii's new head basketball coach.
Nearly a decade after that debacle, Hugh Yoshida made his biggest mistake as A.D. He hired Fred vonAppen as the school's new head football coach.
In both cases, the athletic director followed a hunch that the best man for the job was someone without Hawaii ties. In both cases, the A.D. was absolutely wrong and the results were disastrous.
This winter, Hawaii's current athletic director, Herman Frazier, has his biggest decision yet. He is tasked with the selection of Hawaii's new head basketball coach.
The task should be a no-brainer. After 25 years as an assistant to the retiring Riley Wallace, associate head coach Bob Nash is the obvious choice. Nash knows the intricacies and complexities of major college basketball. He knows what works and what doesn't in Wallace's system. And most importantly, he knows Hawaii.
Simply put, Bob Nash is Hawaii basketball.
In 1971, in his first of two seasons as a player here, Nash pulled down a staggering total of 30 rebounds in a game against Arizona State. His record still stands, and anybody who follows college basketball can't imagine the record ever being broken.
In two seasons playing for the "Fab Five," Nash led the Rainbows into the post-season while averaging a record 12 rebounds a game and nearly 17 points a contest. Nash was the glue that held that storied team together. After his playing days were finished, he was drafted into the NBA in the first round and played five seasons with the Detroit Pistons and Kansas City Kings. No Hawaii player has ever been drafted as high.
When he returned to Hawaii in the late '80s, he immediately connected with UH fans. I'll never forget the image of Nash standing on the Blaisdell Arena sideline, wildly waving a towel during the NIT post-season, and leading the crowd into a frenzy.
I remember the talk around the same time about whether he was ready to step up from an assistant's role to a head coach's role. There were doubters who believed he really was nothing more than a cheerleader.
But those doubts were before Nash wore so many hats within the program. Over the years, he has been Wallace's top recruiter, his top scout, and his chief strategist.
In a nutshell, Nash has been there and done that.
Now he deserves his chance to lead.
More importantly, and I believe these are major points for UH fans, he has paid his dues. And he knows Hawaii.
These are huge factors. Knowing Hawaii and understanding the sensitivities of our culture and realizing how our global isolation plays a major role are every bit as important as the X's and O's of the game. It's hard to win here if you can't live here.
Frazier will no doubt be attracted to the idea of getting someone outside the system. He might like the idea of starting over, of creating a new brand of Hawaii basketball, of hiring a new name - his guy.
But if he does that, if he hires someone other than Nash, he runs the risk of raising the ire of his fan base. And he runs a greater risk of making the same mistake that Sheriff and Yoshida made years ago.
This is Frazier's first big hire. He needs to look back at history and learn from it. History says Bob Nash is the choice. The only choice. Hawaii fans deserve the best. And he's sitting on the UH bench right now.
Most Recent Comment(s):