It's A Busy Fall Sports Season

By
.(JavaScript must be enabled to view this email address)
Wednesday - September 15, 2010
|
Share

Del.icio.us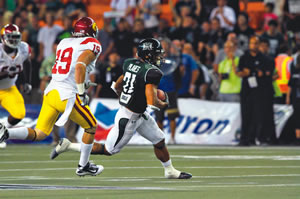 Smooth move: Kealoha Pilares
A little bit of a lot of local sports things - early fall 2010 edition:
* No matter how the Warriors come off the road this week, I'm excited about the remainder of the University of Hawaii football season. Due in part to the Warriors having the most seniors in Division I football this year, this should be the best team in the McMackin era.
* Mark it down as one of the best position switches in a college career: Former Damien star Kealoha Pilares' move from running back to slot back a year ago. He proved in the season opener against USC that he's a game-breaker at receiver.
* You have to be impressed with the start of the season for Kahuku High football. From what I've seen so far, this might be one of the best Red Raider teams in recent years.
* Two of my favorite all-time Hawaii volleyball players are Damien Hardy and Mary Robins, who starred for outstanding Rainbow and Wahine teams in the late 1980s. It's nice to see that their marital union has produced two current stars on Kamehameha's No. 1-ranked girls volleyball team: Junior Damianna Robins-Hardy and Freshman Taira Robins-Hardy.
* Anyone ready to name Kanani Danielson as one of the all-time greats in UH Wahine volleyball history? She's powerful, efficient and clutch. The former Kamehameha star should lead Dave Shoji's talented team to their 15th straight WAC title and might have enough great swings to lead the Wahine to the Final Four for the second year in a row.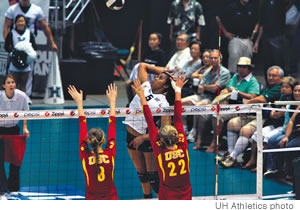 Kanani Daneilson can do it all
* The fall 2010 season for the PacWest conference is under way this week. BYU-Hawaii's Emily Mearns was the first PacWest Player of the Week in women's soccer after scoring a hat trick of goals in her first game of the year. HPU's awesome middle hitter Kelly Balanay was this season's first women's volleyball Player of the Week. Kawena Cub-Otineru, younger sister of former Wahine star Aneli, will lead Hawaii Hilo as the Vulcans try to defend last year's volleyball title with former Hawaii men's coaches, Tino Reyes and
Mike Wilton, now on their coaching sidelines. Meanwhile, expect big things from Chaminade's men's cross country team this year, with Nathan Williams, Emmanuel Jimenez and Tucker Kidd leading the Silversword runners.
* I received a great deal of comment on my recent fun column to create a Mount Rushmore of Hawaii sports figures (and the great MidWeek graphic by Micah Kagihara). Everyone seemed to agree with Duke Kahanamoku, Les Murakami and Dave Shoji - the name most respondents wanted to change was Colt Brennan. I heard many other suggestions including June Jones, Stan Sheriff, Jesse Sapolu, Tommy Kaulukukui and Chuck Leahey.
* An update on another recent column. You may remember my story on Mililani's Govinda Patterson, the basketball coach who combined martial arts ideas with basketball training. A month or so after my story appeared, Govinda called to tell me he's been invited to show those unique skills at the New York Knicks preseason training camp.
* Finally, a fun little personal note. My nephew Ryan Hogue (no relation to the Academy of Pacific athletic director by the same name) is a freshman football star in California. His coach is Mike Madden, the son of legendary coach and video game icon John Madden. I don't think it means I'll get my own copy of 2010 Madden NFL, but it sure makes for interesting family-reunion talk.
Have a great fall season, everybody.
Most Recent Comment(s):