It's About Time For Girl Hoopsters

By
.(JavaScript must be enabled to view this email address)
Wednesday - May 09, 2007
|
Share

Del.icio.us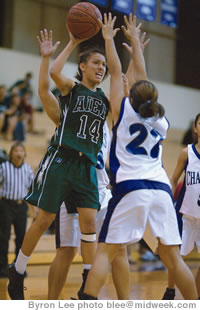 Natasha Helsham of Aiea vs. Ariel
Komomua of Pearl City
Next week will mark the end of an era. When the teams file out for the HHSAA Girls Basketball State Championships at the Stan Sheriff Center, it will probably mark the last time you'll see varsity high school girls basketball in the springtime.
Gender equity has finally prevailed. And despite some complaints and protestations, that's a good thing.
The vote by athletic directors late last month will move girls basketball from the spring to the winter, move girls softball from the winter to the spring, and move boys volleyball from the fall to the spring; it's all done to align our seasons with standardized college and high school schedules on the Mainland. And it was done after a federal court ruling showed Hawaii that it would be costly and divisive to fight inevitability.
In a nutshell, we've finally complied with a federal law that our own Patsy Mink championed back in the 1970s.
Although the initial vote called for the schedule changes to be made in the 2008-2009 season, it's likely that it will happen immediately, as in next school year.
For some, change will be hard. Athletic directors and coaches will have to be creative to find ways to get twice as many basketball teams into all the state's gymnasiums during the winter months. Baseball and softball coaches who often practice on the same blades of grass will have to get especially creative in the springtime.
And who knows how the state is going to come up with enough qualified basketball officials and baseball/softball umpires to call twice as many games each season?
But it can be done.
It's time now to embrace the change and move forward. Girls have lived in the shadow of inequality for too long. Sure, girls basketball has received wonderful media coverage because of its unique placement in the spring sports schedule. Sure, girls softball players have had unfettered access to ball-fields in the winter.
But that doesn't make it right. Equality isn't about convenience or coverage. It's about equal opportunity and equal access to facilities and resources.
Simply put, girls deserve the same educational and athletic opportunities as boys. No one would suggest that students in, say, a high school history class should be segregated by gender. We don't see girls moved to the outside portable classroom while boys stay in a nice air-conditioned classroom because boys are bigger and need more space. The thought of that is absurd.
Unfortunately, as convenient as it has been, the present schedule is just as discriminatory.
It's time now to embrace the change instead of complaining about it. Here are some of the good things that will come out of it:
* Girls/Boys doubleheaders during the basketball season. I can already see packed gyms for matchups like PunahouKamehameha or Roosevelt-Kalaheo and many others.
* Pre-season tournaments for girls basketball. I can see tour-neys like the boys have with the Iolani Classic, with top Mainland teams coming here to play Hawaii's best.
* Softball games played in the great weather of Hawaii's springtime. No more will softball coaches have to have constant concerns about winter rain-outs.
* Increased participation in girls volleyball clubs. With girls playing volleyball in the fall and basketball in the winter, club teams will have access to more athletes in the springtime.
* Boys will have a chance to play football and volleyball. Right now, boys have to make a tough choice. Now, they'll get the chance to play two of Hawaii's favorite sports in the same school year.
All of this change should be seen as a great opportunity for Hawaii's young student-athletes. It also can also lead to more scholarship opportunities at the next level.
It's all possible. And it all can happen because we're doing the right thing.
Embrace it.
Most Recent Comment(s):