It's Raining Threes At Kalaheo

By
.(JavaScript must be enabled to view this email address)
Wednesday - January 03, 2007
|
Share

Del.icio.us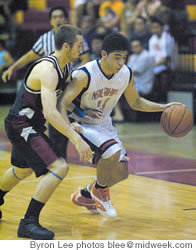 Cheyenne Lishman drives to the
basket
At Enchanted Lake Playground in Kailua, the sound of a bouncing basketball reverberates off the surrounding homes. It can be a lonely sound when you're out there all by yourself in the darkness - unless that is, you're listening for something else.
That other sound is the swishing of the basketball net. That swooshing sound when the basketball nestles perfectly into the net is a beautiful sound.
It's a sound that 16-year-old Cheyenne Lishman knows so well.
For years now, Cheyenne (his name is pronounced "Shane") has been dribbling the ball and shooting baskets at the Enchanted Lake Playground for hours on end.
"I try to take between 300 to 500 shots per day," he says.
And that shooting has paid off - big time.
In a the recent Pete Smith pre-season tournament, Lishman, a junior shooting guard at Kalaheo High, hit for 24 points against Honokaa, 27 points against Kamehameha, then 30 in a resounding victory over top-ranked Punahou. That scoring barrage included six high-arching three-pointers.
"I was pretty amazed," he says with humility.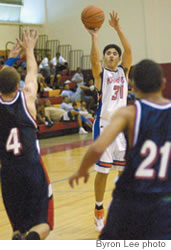 Cheyenne Lishman fires a three
His head coach, Chico Furtado, wasn't surprised.
"Cheyenne has worked very hard," Chico says. "He can shoot the three from just about anywhere."
That's true, too. Cheyenne says he likes to set up about two feet behind the three-point arc and then let it fly. "My favorite spots are along the baseline and on the wing," he says.
At 6-feet-1-inch tall, Cheyenne grew up playing basketball on the Kailua courts. He starting playing organized ball in the Kailua Basketball Association when he was about 6 years old. He credits his dad Kyle, who played at Kailua High, with getting him started.
During his young basketball journey, Cheyenne has led all his teams in scoring. That is, until last year. As a 10th-grader at Kalaheo, he learned what it was like to sit on the bench.
"It was frustrating," he remembers.
And it made him work harder this past summer.
"I got together with (Kalaheo JV coach) Ryan Hogue," he says. They worked on technique and his release point. By the end of the summer, Cheyenne was a dead-eye from all over the court.
Now, with the OIA season beginning,
Cheyenne believes that Kalaheo can be a serious contender for the title.
"We've got a great team with great size," he says.
The Mustangs are anchored by 6-foot-6-inch Tyler Caswell in the middle. His presence allows Cheyenne to set up outside and bomb away.
It's a skill he developed on the Enchanted Lake Playground, bouncing a lone basketball, and listening for the beautiful sound of a swishing net.
Next year, as a senior, he'll make that same sound on the newly named Pete Smith Court at Kalaheo. The Mustangs will officially rename the court for their longtime legendary coach this summer.
Cheyenne Lishman intends to christen that court with the sound of threes.
Most Recent Comment(s):