It's Time To Take On The Big Boys

By
.(JavaScript must be enabled to view this email address)
Wednesday - December 14, 2005
|
Share

Del.icio.us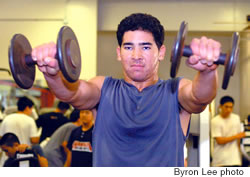 Jon Takamura gets in some lifting while rehabbing
an ankle
When you mention the word "doctor" in the same sentence with Iolani basketball, you immediately think of Dr. Mark Mugiishi. Mugiishi, of course, is the well-respected Honolulu surgeon who doubles as the Raiders' highly successful basketball coach.
But soon there may be another doctor in the house of Iolani hoops. Senior forward Jon Takamura aspires to follow in his coach's footsteps.
"I really would like to become a doctor," Takamura says. "Specifically, an anesthesiologist. I've talked with Coach about it and he's helped me a great deal."
Takamura certainly has the academic credentials to get into medicine. He sports an astronomic 4.2 grade point average. The reason it's higher than the classic straight A average of 4.0 is that Takamura takes so many Advanced Placement classes like AP Biology, AP Government, College Calculus, just to name a few.
Throughout his high school academic career, Takamura has earned all A's and only two B's.
"There's so much academic competition at Iolani and I'm very competitive," he says of the reason for his outstanding success.
The talented 6-foot-2-inch 210-pound senior is also extremely competitive in athletics. Most recently, he was an all-state linebacker and punter for the Iolani Division II state championship football team. That state title was the second he earned in 2005, coming on the heels of another state championship for the Iolani basketball team last winter. Takamura played forward on that team and was one of the Raiders' top rebounders.
"It's an excellent feeling to be a winner," he says. "I think it's because of the 'One Team' philosophy we have at Iolani. It's preached to us from the first day we get here. Everyone believes in it."
That belief system has spelled victory after victory for the Iolani basketball team. At the start of this season, the Raiders' winning streak over other schools from Hawaii had reached over 100 straight games. They have won four consecutive state basketball championships.
"Winning has become a mentality," he says. "We all have our roles and we all believe in each other."
This week, though, the Raiders go from heavy favorites to underdogs when they host the prestigious Iolani Classic, Dec.16-22. The Iolani Classic features some of the best teams in the world, including this year's field of USA Today's No. 1-ranked team, Montrose Christian of Maryland, No. 3-ranked Fairfax of California, No. 10-ranked Arlington Country Day of Florida, plus Urspring, Germany, the 2005 German high school champions.
Along with Iolani, local teams Punahou, Kahuku and Kalaheo will try to do their best against the much taller teams from outside the state.
"We're so undersized that it's pride for us to beat a Mainland team," Takamura says. "In fact, it's pride for the entire state, allowing us to prove that players from Hawaii can play with anyone."
Takamura will have an additional challenge this week. He sprained his ankle in the state championship football game, so he might be at less than 100 percent when he takes the court.
"I'll be OK," he says with confidence.
That's the attitude that has guided him to excellence in both academics and athletics. He's learned to balance his time extremely well, so that he can excel in all the endeavors he pursues.
"I manage my time by skipping the unimportant stuff," he says. "I try to focus on what's important."
At Iolani, that means intensity on the football field, the basketball court and in the classroom. His recent football success has led to recruiting interest from Cal, Washington, Oregon State, Utah and UTEP.
And after college, it's on to medical school, where you can expect Dr. Takamura to be making the rounds.
"I just want to take care of patients," he says.
Right now, Jon Takamura is taking care of business in more ways than one. At Iolani, the new doctor is in.
Most Recent Comment(s):