Jackson Is A Wheeler And A Dealer

By
.(JavaScript must be enabled to view this email address)
Wednesday - October 29, 2008
|
Share

Del.icio.us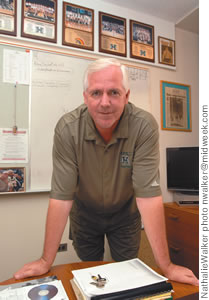 UH associate basketball coach Jackson Wheeler
Few people in Hawaii love basketball as much as University of Hawaii associate coach Jackson Wheeler. He was an all-state high school player in Northern California in the 1970s, a stand-out guard in the Kansas NAIA ranks in college, and he's been the chief recruiter for Riley Wallace and Bob Nash for the past 19 seasons.
But even the 48-year-old Wheeler can't do basketball 24/7. When I called him about this interview, he said he tries to take a lunch break to "walk the dogs, work in the yard and just see the ocean. I've got two King Charles Cavalier spaniels, one is 11 and the other is 2, and I just love 'em. I like to get away from it all just a little bit."
Wheeler deserves the short daily break; he works hard for the Hawaii program. Over the years, he's recruited many of the top names that UH fans have cheered for - Anthony Carter, Tony Maroney, Trevor Ruffin, Michael Kuebler, Julian Sensley and Little Matt Gibson, just to name a few.
"I figure I've logged more than a million miles since I've been here," Wheeler says.
This past year, he pulled off one of his top recruiting coups ever, helping convince 6-foot-7-inch junior forward Roderick Flemings to turn down basketball power-house Kentucky to accept a scholarship to play in Manoa. Flemings was rated as one of the top junior college prospects in the nation and averaged over 20 points a game in leading his Texas JC team to the state title on his way to conference Player of the Year honors.
"Obviously, anytime you beat out a program like Kentucky, it's great. He's an elite type of athlete," Wheeler says. "He's got exceptional talent (and) hopefully he'll be like A.C. (Anthony Carter) in getting the fans excited. He's a great team player, just like A.C., and I believe he'll also be a great ambassador for the University of Hawaii."
The first chance for Rainbow Warrior fans to see Flemings in action will be two exhibition games early next month against PacWest teams, UH Hilo and Chaminade. The Hawaii vs. UH Hilo contest is scheduled for Sunday, Nov. 2, at 5 p.m. The Hawaii vs. Chaminade exhibition is set for Friday, Nov. 7 at 7 p.m. Both games are at the Stan Sheriff Center.
"The PacWest plays a real important role for everyone in Hawaii," he says. "We haven't played Chaminade since I've been here, except in the Maui Invitational. We've played (Hilo coach) Jeff (Law) a number of times because he was a part of our staff, and we really enjoy seeing him. We think this is going to be great for basketball in Hawaii."
Wheeler says that relationships are the key to his recruiting success. He was able to get to Flemings because of his close relationship with the star player's junior college coach.
"He's one of my best friends," Wheeler says. "We talk almost every other day. We've been fortunate to get a number of players from him."
Wheeler says getting that inside track is extremely crucial, especially considering the distance challenges from Hawaii.
"Travel is hard on us," he says. "Recruiting players here is a unique situation."
But you don't have to convince Wheeler that Hawaii is the greatest place to live and work. He moved here to start his life anew after the tragic death of his first wife.
"I love it here," he says. "This is where I got a second chance in life. After the tragedy with my wife, I needed a place like this. It's provided a wonderful opportunity for me."
Wheeler remarried several years ago. He and his wife, Lael, have a daughter, Tiffany. And, of course, there are the two King Charles Cavalier spaniels to keep the coach occupied at least a little bit each day.
"I was telling my wife the other day, I can't believe it's been 19 years - it feels like 19 days," he says. "I told her if it all ended tomorrow, I'd still feel like it was the greatest ride ever. I really feel blessed."
Hawaii fans feel the same way about Wheeler, who is truly one of the nicest people in all of Hawaii sports. His recruiting prowess has made him one of the most successful ambassadors the state has ever had.
So, if Jackson Wheeler says he deserves a break today, believe it. Hawaii's basketball fans have been the major beneficiaries of his long stint in paradise.
Most Recent Comment(s):