Jumping Into The History Books

By
.(JavaScript must be enabled to view this email address)
Wednesday - May 27, 2009
|
Share

Del.icio.us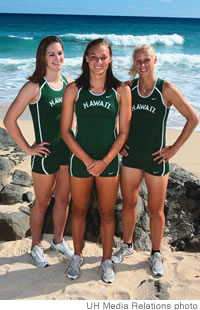 Amber Kaufman, Emily Sheppard and Annett Wichmann
Carmyn James was gushing with enthusiasm a few days after the WAC Outdoor Track and Field Championships. That's not unusual for the highly energetic and positively enthusiastic head coach of the Wahine track and field team.
But this time, Coach James admitted that what she saw at the championship meet in Utah brought her to tears.
"It was one of those magical moments that a coach just dreams about," she recalls. "I was like 'Carmyn, maintain control, maintain control!' But how could I?"
What she was witnessing - and what brought tears streaming down her cheeks - was the sight of her three all-American athletes, all incredibly tired in the final moments of the fourth straight day of the championship, being the final three athletes surviving and thus still competing for points in the women's high jump competition.
Annette Wichmann, Emily Sheppard and Amber Kaufman were the three Wahine still standing so deep into the fray. And when Wichmann finished with the bronze, Sheppard the silver and Kaufmann the gold - on a WAC record and national outdoor best this season jump of 6 feet 4 inches - all Coach James could do was run onto the high jump apron and briefly celebrate with her incredible athletes.
"I ran out and gave them a quick hug and zipped right back; I was so emotionally overwhelmed," she says. "It was so phenomenal for all three athletes, each all-Americans, to accomplish this feat, especially with how physically spent they were."
In all, the terrific trio accounted for a whopping 62 total points and seven individual medals as the Wahine amassed their highest WAC championship point total in school history: 105.5 points.Their overall fifth-place finish also was the school's best, and it propelled Wichmann, Sheppard and Kaufman into this week's NCAA regionals (May 29-30) in Eugene, Ore. - aka Track Town, USA - as well as a spot in the NCAA national championships in Fayetteville, Ark., next month.
"There won't be a lot of pressure on them at regionals, as we're trying to have them peak for Fayetteville," Coach James says. "I'm just encouraging them to go out there and have a lot of fun, and they do very well when they're having fun!"
That was certainly the case at the WAC Championships, especially for Wichmann. The remarkable senior from Jena, Germany, won her fourth straight WAC heptathlon title for her fourth straight gold medal in that event, and upped her four-year take on conference championships to 13. She also took home the silver in the javelin, the aforementioned bronze in the high jump, plus a fifth-place spot in both the shot put and the triple jump. In all, she amassed an incredible 32 total points - all by herself.
"She's gone from 11th to ninth to sixth in her three previous national championships (in the heptathlon)," Coach James says. "Her goal is to be in the top three and be a medal-ist this time."
M e a n w h i l e , Sheppard, a senior out of Vancouver, British Columbia, won a bronze in the WAC Championship heptathlon, plus a bronze in the triple jump and the silver in the high jump, upping her medal count over four years to 11. Her best chance for a medal at nationals is in the long jump, where she currently 11th in the country, and in the high jump, where she is currently sixth.
And then there is Kaufman, the sophomore Wahine volleyball player from San Jose, Calif. Her amazing leap-by-leap performance in the WAC championships high-jump competition was an inspiration for all.
"Everyone was crying and jumping up and down. I'll never forget that," Kaufman recalls after clearing the bar at 6 feet 4 inches.
With the current best outdoor mark in the country and second-best leap indoors or outdoors, she has an excellent chance of bringing home the gold.
"It's amazing to watch all of them accomplish these feats," says Coach James. "Last year, they were all-Americans, and helped us to 25th place finish overall (best in the WAC). This year, we hope to bring home three medal-ists. If we could score 15 points, we would be in the top 20 in the country - the best ever performance by Hawaii."
And will there be tears if that happens? "Happy ones, yes," the coach says.
Most Recent Comment(s):