Keeping 'Em Rolling With Humor

By
.(JavaScript must be enabled to view this email address)
Wednesday - March 07, 2007
|
Share

Del.icio.us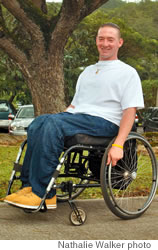 Joe Broc: an inspiration
Sometimes life is full of challenges. It's how we face those challenges that define us.
For 18-year-old Joe Broc of Sunset Beach, he's decided that humor is his best weapon.
"I want to be a motivational speaker and a comedian," he says. "I want to be the first-ever sit-down comedian. I have fun with my disability."
That's tackling Joe's challenge head on.
You see, Joe was born with spina bifida, a birth defect that often causes lifelong paralysis. For Joe, it meant he would never walk without some form of help.
"He can walk for short distances with crutches and braces," says his mother Cindy.
Through perseverance - and sometimes humor - Joe built up the strength in his body in other areas. "I developed by upper body strength," he says.
Joe also loved the water. He would often use his crutches to get himself to the ocean's edge near his home on the North Shore. Being in the water made him feel strong and powerful, and able to do anything.
About seven years ago, Joe "was asked by a family friend to try (canoe) paddling. I was hesitant at first, but I tried it," he recalls. "Because of my upper body strength, it worked out. I love being in the water, and paddling means everything."
These days, Joe paddles for Manu O Ke Kai, and he does it year 'round. Previously, he also paddled for the Kahuku High School varsity paddling team.
He doesn't allow his disability to affect him. "I get help from my friends and my family," he says. "I use my braces and crutches to (get to the water's edge) and then I hop into the canoe. I leave my crutches on the beach. (If there's a problem), sometimes they will carry me down to the canoe."
Through it all, Joe has kept his chin up. Even when he was bothered by a bully in elementary school. "I ended that," Joe says, laughing.
Humor and strength have helped him win the day.
And his efforts of beating the odds didn't go unnoticed. After high school, Joe was awarded the prestigious Swim With Mike scholarship, a $10,000-a-year financial grant to the college of his choice.
"It's an award in honor of all-American swimmer Mike Nyeholt of USC," says Cindy. "Mike was in a motorcycle accident (several years ago) and was paralyzed from the waist down."
Like Joe, Mike never gave up, and his work has now benefited dozens of physically challenged athletes around the nation. In the past two and a half decades since the accident, Mike has raised over $6 million to further the cause.
Joe is the award's Hawaii designee. He will be honored at an event at USC on April 14, and then again at UHManoa's Duke Kahanamoku Swim Complex on April 21 (along with another Hawaii-winner, Tusi Mailo.)
With his award he chose to continue his schooling at Hawaii Pacific University.
"I'm planning on majoring in communications," Joe says.
Nothing can stop him now. His family has also sought out other scholarships and Joe has been awarded financial aid from the Horatio Alger Foundation, HMSA, the Duke Kahanamoku Foundation, Foodland and the Hawaii State Teachers Association, among others.
"It's helped us so much to be able to continue his schooling," Cindy says.
Cindy is a special needs teacher in Laie, while husband Jeff is a carpenter.
"We want (other families) to know that there is help out there," Cindy says.
His family has seen Joe grow up to become a successful student-athlete. "He's very independent," Cindy says.
Joe has proven that with confidence, strength and a good sense of humor, anything is possible.
"You have to overcome obstacles, not let them overcome you," he says. "I tell people 'Don't have any regrets. Be positive. Be happy with what you have.'"
Joe Broc is proof of that every day of his life. That's definitely worth a standing ovation for the world's first "sit-down comedian."
Most Recent Comment(s):