Keeping Sailors In Shape At Sea

By
.(JavaScript must be enabled to view this email address)
Wednesday - July 14, 2010
|
Share

Del.icio.us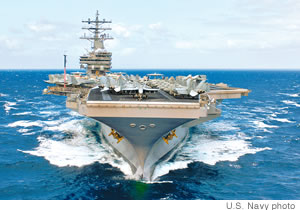 The massive USS Ronald Reagan includes six gyms and a full-time fitness expert
I spent the night on the USS Ronald Reagan.
And so begins my story. It wasn't planned, I can assure you, but it was well-spent. I had been invited aboard the USA's newest nuclear aircraft carrier to observe the beginning of the biennial RIMPAC exercises. But a temporary snafu with the return helicopter kept a few of us on board for the night.
I decided to put the extra time to good use: Find a sports angle.
I met the carrier's so-called "Fit Boss." His name is Luke Lockwood, a 28-year-old civilian fitness expert contracted to the Naval Installations Command for the sole purpose of making sure the ship's 4,500 sailors and Marines have enough sports activities, recreation and physical fitness opportunities. His official title is "afloat fitness director."
"I manage all the gyms, all the sports programs, all the fitness classes," he tells me. "I try to make sure that if anyone wants to play a sport or get into a fitness regimen that they are able to do that."
Because the giant carrier is like a floating city, there's certainly plenty of room to do just that. "We've got six gyms," he says.
There also is a basketball court in the hangar bay, and it's not uncommon for games of 5-on-5 or 3-on-3 to break out when there is down time out at sea.
There's not a great deal of idle time during the busy RIMPAC period - a massive naval event involving 14 nations and 20,000 personnel, with military exercises on land, sea and in the air. The USS Ronald Reagan is the only super carrier in the Hawaiian waters during the exercises that run through Aug. 1.
Before the official exercises got under way, Lockwood helped coordinate team activities between the Ronald Reagan and competing ships and countries in several sports, including basketball, soccer, softball, indoor volleyball, sand volleyball, bowling and a 5-kilometer run.
"We won!" he says.
Lockwood, a native of Orlando, got this plum assignment after previously working at Bloch Arena at Pearl Harbor. He's a former baseball pitcher, a left-ie who played college ball at Morehead State in Kentucky. "I got my master's in exercise physiology and got into fitness and sports," he says.
He was assigned to the Ronald Reagan a little over a year ago, and often works from 6 a.m. until 10 at night - and says he enjoys every minute of it. Besides running fitness classes and sports activities aboard ship, he also makes sure the men and women find athletic outlets when they come into port. He's helped coordinate soccer tournaments in Thailand, basketball and softball tournaments in Dubai, and even an ice hockey event in Hawaii. "We played at the Ice Palace," he says.
He says that officers, enlisted personnel and others need that time away from the grueling work they do on a daily basis.
"I think it's a good stress release to play sports they love. The competitiveness, it's great."
He has his daily challenges, too. "It's always challenging day to day, maintaining everything. If it doesn't work at sea, it might be a while until we can get it fixed. Out here, you work, you eat, you sleep."
And because of people like Lockwood, the men and women of the USS Ronald Reagan also get a great opportunity to work out. It's a small component to help our American fighting forces stay strong, focused and always ready.
Most Recent Comment(s):