Keys To Success For Radford Hoops

By
.(JavaScript must be enabled to view this email address)
Wednesday - May 28, 2008
|
Share

Del.icio.us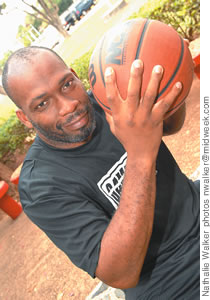 Wayne Keys will share his 'Keys To Success' at Radford's clinic
When Radford High School basketball coach Wayne Keys was growing up near Philadelphia, he saw a great deal of life he didn't like.
"The shootings and the drug dealings; I had relatives who passed away due to the problems. I needed a change from where I came from," he says.
So when Chic Hess, another Philly-area native who had moved to Hawaii, came recruiting, Keys packed up his bags and moved 6,000 miles away to tiny Laie, Hawaii. That was 1987.
"The first thing I remember about coming here was being asked 'what is the purpose of life?'" he says. "I realized that there is so much more than basketball. BYU-Hawaii taught me so much - about character, respect, understanding other cultures, understanding other people and most important, understanding myself."
One thing that everyone understood was that Keys was an outstanding player. The 6-foot-4-inch guard/forward earned All-American status for the Seasiders and had tryouts with two NBA teams-the Washington Bullets and Charlotte Hornets. He eventually played three seasons in the CBA with the Trenton Flames.
"My goal then was to graduate, play pro ball, make a lot of
money and build a big building for homeless people. I wanted to help others," he says.
The dream never quite happened that way, but Keys is still very much helping others. He got into coaching back at his old high school in Pennsylvania, and then three years ago, made the big decision to move his family back to Hawaii. His wife, Lisa, is part of his Giving Back Program, his stepdaughters Cherae and Breeah play softball for BYU-Hawaii and Kahuku High, and his son Wayne Jr. plays basketball where Keys now coaches the varsity boys basketball team, Radford.
Keys turned 40 this past October and his first gift was getting a chance to coach his first year of varsity ball at a school that has a rich tradition. He's looking forward to his second season this next year. "This is a great opportunity, and we're going to build on the tradition and make it even greater," he says.
Keys believes that the hard lessons he learned in life can help others grow beyond the game itself.
"I always tell my kids that when you leave the house, tell your folks that you love them. I lost my father in 1999 and I never got to say goodbye to him," he says. "I teach the kids about life in general; that it's more than just basketball. You have to be real with them and teach them to respect themselves."
Another way that Keys is building his program is by starting a basketball camp at Radford. This year's camp is scheduled for June 9-12.
"We'll teach so many fundamentals. I believe strongly that you have to crawl before you walk," he says. "We'll stress things like ball handling and foot-work. Footwork is so important."
Keys is also bringing in a former coach of his with a fantastic knowledge of the basics of the game.
"I got Howie Landa coming down; he's in the Hall of Fame,"
Keys says. "He's taught so much to the kids all around the country and he's going to share that with the kids of Hawaii. We'll make it a lot of fun."
The camp is open to boys and girls between the ages of 7 and 18, with different time periods for different ages and skill levels. For the teenage players, Asai Gilman will be the featured speaker, talking about preparation for college, SATs, the NCAA and more. For more information on how your youngster can participate, contact Coach Keys at .(JavaScript must be enabled to view this email address) or call him at 699-4847.
One thing's for certain. You'll find Wayne Keys is passionate and enthusiastic about a game that gave him so much. More important, you'll hear from a man who believes that life's lessons are learned and built upon every day.
Most Recent Comment(s):