Kicking Off High School Football

By
.(JavaScript must be enabled to view this email address)
Wednesday - August 16, 2006
|
Share

Del.icio.us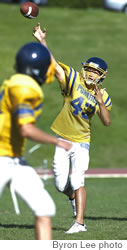 Punahou senior Brett Kan
From Manoa to the North Shore, the guys have been working hard all summer long - in the weight room, through the twoa-day drills. Now it's time to put the football pads on for real. Yes, believe it or not, it's already time for another high school football season.
Flashback to last season. Friday night, Dec. 2, 2005 - state championship night at a raucous and rocking Aloha Stadium. Fans from both Punahou and Kahuku were in a frenzy as the Red Raiders tried to hold onto their narrow lead in the final frantic seconds. OIA champion Kahuku, having won three of the previous five state titles, came into the game as the heavy favorite, while Punahou, playing the rare Cinderella role, had claimed its first ILH title in 28 years.
"I didn't realize how big that game was until later," recalls Punahou senior Brett Kan, who is ready to start at quarterback for the Buffanblu for the third straight season. "The stands were so packed; people were going crazy. Both teams played their hearts out."
As the lead see-sawed back and forth, Kahuku rallied from a 21-12 fourth-quarter deficit to take a seven-point lead with just over two minutes left in the game. But with no timeouts remaining, Kan passed his team down the field, driving 71 yards to the Kahuku three-yard line with 23 seconds remaining.
Then, abruptly, Punahou's Cinderella dream ended. Kahuku's Suaesi Tuimaunei intercepted Kan's pass to the corner of the end-zone and the Red Raiders prevailed, 28-21. "We believed we were going to come back and win it, somehow," Kan says. "Both teams played great. Nobody ever gave up."
Flash forward now to this upcoming Friday night, Aug. 18. It's re-match time, as Punahou and Kahuku will tee it up for the first pre-season game of the 2006 season, also at Aloha Stadium. Kan says Punahou will be fired up once again. "Losing was hard," he says. "We want to start the season strong."
Strong is a key word for the 6-foot-2-inch, 187-pound signal-caller. He spent a great deal of his off-season time in the weight room. "I gained 18 pounds this year," he says. "I needed to bulk up."
While Kan sees this pre-season game as an opportunity to propel his team to greatness again, his veteran head coach Kale Ane puts things in perspective. "We talk (with the players) about preparing for a journey," the Punahou coach says. "Last year was an exciting journey for us. (But) this is a whole new team with a whole new chemistry."
Kahuku's Reggie Torres is looking at the Friday night clash in similar fashion. "It's good to go against Punahou, but we're looking at it as a pre-season game and a chance to look at a lot of players."
It might also be a chance for Torres to evaluate himself. After coaching Kahuku wrestling, judo and JV football for many years, he took over the helm of the Red Raiders' dynamic - and dominant - varsity program this past spring.
"Coaching is coaching," he says. "But just the notoriety of the program has grown and changed so much in the past few years."
In other words, Kahuku football is huge, and expectations from the community are extremely high. For Torres, who says he has a veteran defense led by highly recruited noseguard Kaniela Tuipulotu, but has to find a new quarterback and a new tailback to lead the offense, there's not a lot of time. "We'll learn as we go," he says.
For Punahou, the goal is to return to the glory they tasted briefly on that December night last fall. Coach Ane cautions that he has a team in transition. "We have nine new starters on defense and only two returning starters on the offensive line," Ane says. "We're excited, but we know we're playing one of the best teams around."
But the Buffanblu skill positions, headed by Kan at quarterback and Miah Ostrowski and River Kim at receiver, and Kainoa Carlson at running back, are ready for another incredible journey. "The focus is on sticking together," Kan says.
The other kind of sticking - the kind that high school football players live and die for at this time of year - starts Friday night at Aloha Stadium. Pre-season or not, it's a great way to kick off the year.
Most Recent Comment(s):