Laie's Legendary Father-Son Team

By
.(JavaScript must be enabled to view this email address)
Wednesday - April 18, 2007
|
Share

Del.icio.us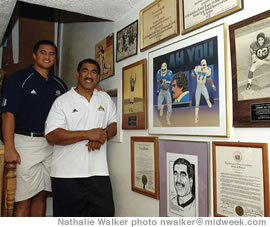 Junior and son Kingsley Ah You and their wall of fame
Every year, for nearly two decades, the best football players from Kahuku and Laie, and the entire North Shore and Windward areas, descend on Laie for the annual Laie Park Christmas Bowl.
"It goes from before Christmas up until the New Year," says Junior Ah You, a football legend in the community for the past four decades. "It's something we started to keep the kids off the streets during the holidays."
"It's a flag football (tournament) and everyone comes to play in it. They come home from college or they plan their vacations around it. It's our time to share together," says Kingsley Ah You, now 36, Junior's eldest son.
Junior and Kingsley became the first father-son duo to play in the games when the tradition started 18 years ago.
"You don't see too many fathers playing with their sons," Junior, now 58, remembers. "I treasure those moments."
Sports fans from around Laie and Kahuku treasure all their memories of watching the Ah You family play football.
Junior was such an outstanding player at Kahuku in the late 1960s that he was named high school All-American. He was recruited to Arizona State by the legendary Frank Kush, and played defensive end for the Sun Devils when they were the kings of the old Western Athletic Conference.
"We lost only three games in three years," Junior remembers. "My sophomore year, we went undefeated and were ranked No. 6 in the nation. It was unbelievable for a WAC team to be ranked that high."
Ah You and the Sun Devils played in the Peach Bowl after that undefeated season, the school's first major bowl game ever.
"We beat North Carolina in a snowstorm," Junior recalls. "I don't remember much because I got hit in the head."
He does remember, however, that he was selected as the defensive player of the game.
After an all-WAC career, he was drafted by the New England Patriots in the NFL, but chose instead to play in the Canadian Football League.
"(The NFL) wanted to move me to linebacker. In Canada, they let me play where I was accustomed to," he says.
The Grey Cup is like the Super Bowl in Canada, and Junior won three of them. He was also twice named the league's defensive player of the year. After 11 seasons with the Montreal Alouettes, he retired. Or so he thought.
"For my retirement, I saved all my money with the team," he says. "When they started signing players like (NFL greats) Vince Ferragamo, Billy 'White Shoes' Johnson, and Fred Biletnikoff, things didn't pan out. They went bankrupt. I lost everything; nearly a half-million dollars. A bunch of other veterans also lost their life savings."
Junior came home to Hawaii to get into the real estate business. But he didn't stay long.
"George Allen called me and begged me to play in the USFL. (Eventually), he flew over here to sign me," Junior recalls.
Ah You played three more seasons of professional football, two with the Arizona Wranglers and one with the New Orleans Breakers. "I ended my career where it began, with Frank Kush as my coach, playing at Sun Devil Stadium."
Kingsley, meanwhile, got to go along on the long pro football trips with his dad.
"My brother and I were team managers," he says. Kingsley later was an All-State linebacker at Kahuku and earned a football scholarship to BYU. Unfortunately, he blew out his knee and his college playing career ended before it really even started.
"I made sure I finished my education," he says. "It's an important message I tell to young people.'Sports can get you there, but schooling is what keeps you there.'"
It's a lesson he has never forgotten. Now Kinglsey and Junior are involved together again, as partners in a company that showcases high school, youth and amateur sports. They co-own and operate www.hi50sports.com, a popular website associated with Digital Sports.
"We want every young student-athlete to be proud of their accomplishments," Kingsley says. "It's a place for both athletes and their schools to create memories and miracles."
Just like playing together in the Laie Park Christmas Bowl, this father-and-son team work their miracles for all the youth of Hawaii. I'm proud to say that I'll be joining them in their venture as a senior correspondent for Hi50sports. You can check out the new memories at www.hi50sports.com.
I couldn't think of better partners than Junior and Kingsley AhYou, two true community legends.
Most Recent Comment(s):