Learning Baseball The Ishigo Way

By
.(JavaScript must be enabled to view this email address)
Wednesday - January 25, 2006
|
Share

Del.icio.us
How much can you learn at a one-day baseball clinic? I posed that question to one of the most hard-nosed baseball players I've ever seen - Corey Ishigo.
All Hawaii knows Corey. He was the tough-as-nails star for Les Murakami's Rainbows in the 1990s. You didn't have to look far to find him at then-Rainbow Stadium. Just look for the dirtiest uniform. That dirt was an indication of how much Corey gave to each and every game he played.
That drive to be the best didn't stop there. A few years later, he accepted the head-coaching reins at his high school alma mater - Kailua High. In the seven years he's been there, his scrappy Surfriders have earned one state title, plus they finished as state runner-up, and they've also won five OIA titles.
As testament to his team's never-say-die attitude, one of his teams came from four runs behind in the last inning to win an OIA championship. But they topped that when they came from six runs behind against heavily favored Mid-Pacific to win the state championship.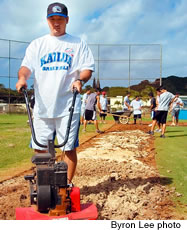 Corey Ishigo and his players work to
improve the Kailua High Field
"We don't have the most talented kids, but they enjoy the game," Corey says modestly.
So what can Corey Ishigo and several professional players - from Brandon League to Kyle Kawabata to Keoni DeRenne and the Sardinha brothers (plus others) - teach your budding baseball star in two one-day (six-hour) clinics on Saturday, Jan. 28 and Sunday, Jan. 29?
A bunch.
"They can learn a lot about life," Corey says. "They can learn how to pursue great things. And they can learn that understanding the game is fun."
That's what Coach Ishigo has learned himself in the past several years. Perhaps the turning point for him was teaching special education children every day. That's the position he holds at Kailua High School when he isn't coaching baseball.
"You're the first person to ever ask me that," he says, "but it's true. Every kid is different. You learn how to reach each individual differently. That's what I think has helped me the most."
So Corey takes the lessons that his schoolchildren teach him, and he brings that patience to the baseball diamond.
"I've learned to recognize every kid's strengths and their weaknesses," he says. "More importantly, how to reach them. Because if you reach them you can help them realize just how good they can be."
As good as Corey Ishigo was in his high school, college or AJA days?
Maybe. Maybe not.
But that's not the point. Reaching someone - and then helping that someone - is.
"If we can reach one kid, then we've really done something," he says. "I just want that chance to give the kids of today even more than what I had when I was growing up. And when they see the professional players we have, they'll learn that Hawaii kids can make it to the next level."
Corey Ishigo never played professionally, but he doesn't regret that one bit. Giving others the chance is what his one-day baseball clinics are all about.
For information on how your budding baseball star (ages 7-14 and 15-18) can register for one of these one-day clinics at Kailua High, contact Tom Ishigo (Corey's dad) at 255-5834, or Brian McCreadie at 781-9362. Or e-mail them at .(JavaScript must be enabled to view this email address)
What can you learn in one day?
Perhaps the lesson of a lifetime.
Most Recent Comment(s):