Learning To Play From NBA Stars

By
.(JavaScript must be enabled to view this email address)
Wednesday - May 26, 2010
|
Share

Del.icio.us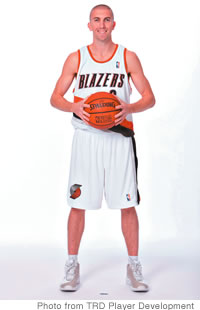 Steve Blake, now a Clipper, returns for another camp
If you're an up-and-coming youth basketball player or you're the parent of a rising hoops star and you've been enjoying the current NBA playoffs, then here's your chance to learn more about the game from the NBA stars themselves.
Steve Blake and Baron Davis of the Los Angeles Clippers along with Tyreke Evans of the Sacramento Kings are scheduled to take part in the TRD-Pro Players Islands Camp June 8-10 at Maryknoll School's new gymnasium. They'll be here to meet and greet youngsters from ages 7 to 17 and teach them insights about the game.
"This is our second year coming to Honolulu," says Greg Dundon of TRD Player Development, who helps organize the camp. "The reception we got last year was tremendous and so we wanted to come back."
Blake is one of the top point guards in the NBA. In college, he helped lead Maryland to the NCAA championship, and he earned a record for most assists in a quarter while playing for the Portland Trailblazers. Davis is a former NBA all-star with strong professional and collegiate credentials. Evans is one of the fastest rising stars in the league, having just been named 2010 Rookie of the Year.
"He's one of only four rookies to average over 20 points a game, and over five assists and five rebounds a game," says Dundon.
The others? Oscar Robertson, Michael Jordan and LeBron James. Not bad company.
Dundon also says that this year's camp will be just a little smaller than last year - and that's a good thing.
"A year ago, we had in the 350 range. This year, we're shooting for about 100 less than that," he says. "We want to be very personal - and we want kids to get that special feeling of working with an NBA player."
Another difference this year is that Blake will be fully healthy.
"Last year, Steve was coming off an injury and he was able to meet and talk with the kids, but he wasn't able to participate in the drills," Dundon says. "This year he's really looking forward to getting out on the court with them."
The camp will have two sessions each day. The morning session, from 9 a.m. to noon, is open to boys and girls who are going into third through sixth grades next year. The afternoon session, from 1 to 4 p.m., is open to boys and girls who are entering seventh to 12th grades next year.
"There will be a big focus on skill development," Dundon says, "ball-handling, offensive moves, shooting mid-range, shooting off the dribble and much more. The NBA players will break into small groups and they'll be helped out by local coaches from Hawaii Pacific, Maryknoll, Roosevelt, La Pietra, Kailua and additional staff members and volunteers from the Portland area."
Portland, Ore., is where Dundon's TRD Player Development is located. Dundon is a former high school and college coach himself, having worked at Portland's LaSalle High School as well as Mount Hood College and the University of San Diego.
"We'll have lots of good opportunities for the youngsters to work with the players. They're really good people and really endear themselves to the community. We'll have a chance for the youngsters to get autographs and take pictures, too," Dundon says. "We'll also have a silent auction at the camp where people can bid for NBA memorabilia - it's open to anyone who wants to drop by and see. All proceeds from the camp will go to local charities, including Shriner's Hospital, Cancer Center and Catholic Charities."
Registration materials can be picked up by going to the Web site www.trdplayerdevelopment.com or by e-mailing Dundon at .(JavaScript must be enabled to view this email address), or call him at 503-806-2510. The cost of the camp is $150. Dundon says that the deadline for mail-in registration is June 3. "But we'll also allow for walk-up registration on that first day," he says.
"Last year, I saw a lot of the 'awe' factor. This year I know it's going to be fun."
Most Recent Comment(s):