Local Athletes Who Make Us Proud

By
.(JavaScript must be enabled to view this email address)
Wednesday - September 26, 2007
|
Share

Del.icio.us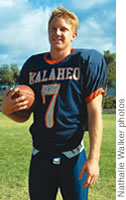 Kalaheo quarterback Cody vonAppen
If I were looking for a catchy headline, I'd call this column Observations of the Fall or How Hawaii's Athletes Make Me Proud Every Single Week.
My thoughts on some individual and team performers this 2007 season:
Is there a gutsier Heisman Trophy candidate than Colt Brennan? Brennan can play through ankle injuries, back injuries and a stressful stomach better than any quarterback I've ever seen. Some national sportswriters are now listing him as their odds-on favorite to win the coveted prize as college football's outstanding player. It's obviously going to be a horse race all the way, but what Colt needs to do is keep throwing out incredible numbers by keeping the Warriors winning - and keep himself standing.
All this talk about the Warriors' offense leads me to this thought: We know UH is going to score big, but the key to their unbeaten streak will be their defense. Expect Adam Leonard and Solomon Elimimian to make huge plays throughout the rest of the season.
In the high school ranks, Punahou junior linebacker Manti Te'o is the best all-around player I've seen in years. Te'o ran for a record 99-yard run from scrimmage in the Buffanblu's first game of the season, but it's his defense that has college recruiters - from USC to Penn State to Hawaii - salivating. Te'o's speed and toughness in the open field allows him to chase down quarterbacks, receivers, and running backs with equal veracity - and Te'o shows no mercy when he captures them.
Damien's Kama Bailey keeps turning heads on offense. The Monarch senior - who draws comparisons to Joe Igber, Mark Atuaia and Kealoha Pilares, among other former local prep stars - may break all their records. He's on pace to gain more than 2,000 yards this season. Currently, Igber is the state record-holder in yards gained.
Perhaps the gutsiest player of the prep football season is Kalaheo's versatile quarterback Cody vonAppen. The son of former UH football coach Fred vonAppen has the Mustangs playing at their highest level in years. The 5-foot-9-inch senior is a tremendous playmaker with the ability to run, scramble and make key passes at the right time.
Another Windward Oahu player has college recruiters standing up and taking notice: 6-foot-2-inch, 305-pound defensive lineman Solomon Koehler is the third-ranked high school defensive lineman in the country, according to rivals.com. Koehler has been selected to play in the high school All-American Bowl in January.
One of the most impressive high school athletes of the past four years is finishing up her senior season this year at Kamehameha. Outside hitter Kanani Herring is already a prep volleyball All-American. The best news for local volleyball fans is that the two-time state player of the year has decided to stay at home and play her collegiate volleyball for the UH Wahine.
Speaking of college volleyball, this year is one of the most competitive PacWest volleyball races in years. Two key matches are on tap this weekend at the Blaisdell Arena, with HPU hosting last year's champ BYU-Hawaii Friday, and the SeaWarriors hosting this year's surprise team, Chaminade, Saturday.
This Saturday also marks a big moment in the Morris household of Honolulu. John Morris, a former all-state star at Punahou, is a backup quarterback for undefeated Occidental College in Southern California. The Tigers, who have won 28 straight regular season games, go up against Claremont McKenna. The significance of the game is that one of Claremont's linebackers is another former Punahou stand-out, freshman Adam Morris, John's brother. So it's brother against brother on Saturday. Claremont also features three players from Iolani - Mike Hirokawa, Travis Nishioka and Landon Patoc.
Finally, a great summer of winning surf contests is leading to a big October for Nelson Ahina of Kalihi. Ahina won long-board titles at the China Uemura Classic, the Steinlager Shaka Longboard Series and the Freedom Surf Contest, among others. Now his family is trying to find ways to raise money for the airfare and $200 registration fee to the prestigious National Longboard Surf Meet in Huntington Beach, Calif., in October. If you can help out in some small way, contact Karen Ahina at 382-5829.
I'd call that a wrap on fall sports, but there's so much more to come!
Most Recent Comment(s):