Long Ago, The Doc Was A Player

By
.(JavaScript must be enabled to view this email address)
Wednesday - September 28, 2005
|
Share

Del.icio.us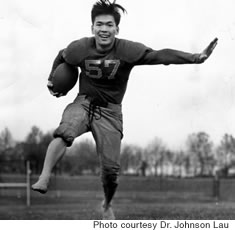 After the barefoot league, Doc Lau was a
shoeless kicker in college
This is a story that's bound to have you smiling. And it should.
It's about an 85-year-old man who has given most of his life to two pursuits - dentistry and athletics. One helps you smile, the other makes you smile. Dr. Johnson Lau does both.
You'll find Lau on the sidelines or on the bench of virtually every St. Louis School athletic event. And it's been that way for nearly six decades.
For 56 years, he's been the Crusaders' team dentist, making sure that players have mouth guards and other security measures to protect their own smiles. From Jim Nicholson and Duke Aiona to George Ornellas and Timmy Chang, Lau has taken care of virtually all Crusader athletes - ever since 1949.
"I started when the teams used to practice at Tripler," he remembers. "I was in Army Reserve Dental Corps."
Lau retired as a colonel not too many years ago, the first person of Chinese ancestry to retire from the Corps. He still keeps his hand in dentistry, working three days a week as a volunteer for the Hawaii Dental Service.
He also attends mass every morning and tries to jog a couple of miles each day at the St. Louis track. But he stays most active helping with St. Louis athletics. Yes, he still makes mouth guards.
But what many of today's players don't realize is that this diminutive dentist was once quite an athlete in his own right.
"They look at me and they don't believe it," he says. "But I played college football and was asked to try out in the NFL."
It's true.
Back in the '30s, Lau never made the St. Louis varsity. "I was only 115 pounds," he says. "So I became the team manager."
But Lau played barefoot football, a popular version of the gridiron sport in the pre-World War II days.
"I was in the 120-pound league," he says. "Before the game, you weighed in. There were no helmets, no shoulder pads. It was brutal because there was also no age limit. So it meant that sometimes you were playing against grown men. Somebody once said that I was the gutsiest Chinaman he'd ever seen."
After high school, Lau attended the University of Hawaii, and then Washington and Jefferson College in Pennsylvania. It was there, as a barefoot college kicker, that he caught the eye of the NFL Philadelphia Eagles.
In a letter from Eagles vice president Archie Foster, dated Dec. 2, 1941, Lau was asked "maybe we want you to join us. In a month, the 10 members of the National Football League will meet in Chicago for the annual drafting of college seniors. Drop your letter in the mail within the next hour and give us a chance to find out."
Lau decided against it. "I was surprised, but I knew I had to make a real living. I went to dental school," he says.
And because eligibility rules were different back then, he continued to play college football while in graduate school at St. Louis University in Missouri. His old scrapbook contains a St. Louis Post-Dispatch account listing him as the "only barefoot kicker in major college football. He punts, drop-kicks and place-kicks by smacking into the ball with the bare toes of his right foot. He says that meeting the ball with his bare toes doesn't hurt."
After the war, Lau returned to the islands to begin both his military dental career and his private practice. He also played some baseball in the old Chinese League. But he never gave up his love for the boys of St. Louis. Over the years, he and his wife donated thousands of dollars to charity, and Lau is very proud to say that he has given "over $200,000 to St. Louis athletics."
Today, he also keeps up with his seven grandchildren, many of whom also starred in sports in high school and college. He's extremely proud of all his family. "For four generations, everyone else in my family graduated from Punahou," he says. "I was the only St. Louis renegade."
The man that the boys simply call "Doc Lau" keeps everyone smiling. He's lived a wonderful life and he's still going very strong.
"Thanks to athletics," he says.
Most Recent Comment(s):