Makaula Does It All For Punaho

By
.(JavaScript must be enabled to view this email address)
Wednesday - September 17, 2008
|
Share

Del.icio.us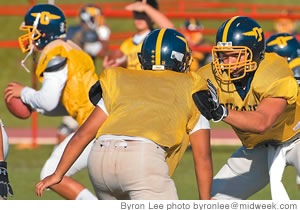 Kimo Makaula blocks as a tight end on this play at practice last week
If you check out the outstanding high school football recruits on Doris Sullivan's PIAA website at www.pacificathleticalliance.com, you get a taste of just how talented our local prep football players are.
But one player's credentials really stand out. That's Kimo Makaula, the senior from Punahou, who is listed at four different positions! No other player can make that claim.
"Quarterback, tight end, defensive end and punter," Makaula says of his primary positions. Many Pac-10 and Mountain West Conference Schools saw the 6-foot-3-inch 230-pounder in action and started recruiting him. UNLV offered him a scholarship to play quarterback. But Hawaii saw his potential as a defensive end, and when they offered, Makaula jumped at the chance to play in front of his hometown family and friends. He verbally committed to UH this summer.
"It was good to get the weight of the decision off my shoulders," he says. "I wanted to focus on my senior year. I owe PIAA and Doris Sullivan many thanks with their help in the recruiting process. I was glad to get it off my back."
It's hard to imagine that Makaula could top the exploits - both individual and team - of his junior year. Last year, he rotated at starting quarterback for the Buffanblu with Cayman Shutter, helping lead Punahou to the No. 2 ranking in the state. Then he played both basketball and baseball, with Punahou winning state championships in both sports. Makaula was one of the first forwards off the bench on the basketball team and a reserve outfielder on the baseball team.
As much as he loves both basketball and baseball, he says football is now his favorite sport. "I didn't start playing it until I was in the eighth grade," he says.
But he developed very quickly. His dad James (who also goes by "Kimo"), is a former baseball player from Maryknoll and UH-Hilo, and he worked hard with his son on the fields and ball yards of Kailua to develop his many skills. (Auntie Roz Makaula played softball at Kamehamaha.)
When the younger Makaula arrived at Punahou, it appeared he was ticketed for stardom at quarterback. But he also turned heads as a punter. His booming kicks impressed coaches from the first time he booted the football.
"I hadn't really done it before," he recalls. "One of the coaches just asked me to try, so I did. One practice, it kind of all came together."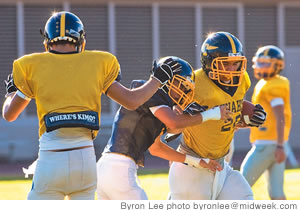 On this play, Makaula takes off as a quarterback
This year, Makaula started the season as tight end on offense and defensive end on the other side of the ball. He's a huge target when he goes out for a pass, but he can also be pressed back into quarterback duties. That happened recently when Shutter was injured, and Makaula responded with a 300-yard passing game in a Punahou victory on the road in Seattle.
His practice routine is quite unique. "On certain days, I work more at tight end; other days at quarterback. After practice, I work with the D-line," he says. Somewhere in his varied routine, he gets some punting practice in.
"My favorite position now is defensive end," he says. "UH says they want to develop me into a pass rusher. I'm looking forward to the challenge."
Obviously, he'll have to beef up to play that position at the Division I level, but that should really be no problem. He's already gained about 25-30 pounds in muscle weight over last year. "They're looking at me to get to 255-260 pounds (by the time he plays collegiately)," he says.
It's easy to see his multi-sport background and draw comparisons to Ikaika Alama-Francis, another three-sport high school star who blossomed into a great college defensive lineman at UH, and who is now playing in the NFL.
"I've got a long way to go before that," Makaula says with humility. "We have a lot of hard work ahead and I'm fortunate to be playing with good players who play as a team. We're really hoping for a championship this year."
For the multi-talented Kimo Makaula, anything is possible.
Most Recent Comment(s):