Making All The Wright Moves

By
.(JavaScript must be enabled to view this email address)
Wednesday - March 22, 2006
|
Share

Del.icio.us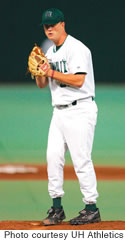 Steven Wright: a season
like few UH pitchers
The first time I heard the name of University of Hawaii pitcher Steven Wright, I couldn't help but think of the stand-up comic by the same name. Steven Wright, the comedian with the monotone delivery who once asked "Why are there interstates in Hawaii?" is an acquired taste who befuddles his audience as much as he amuses.
But there should be no confusion here.
Wright, the Hawaii pitcher, is monotonous only in his drive to pick up one UH victory after another this season.
"I don't want to put anybody to sleep," he says, laughing.
And he hasn't.
Instead, the Rainbows ace is seriously putting together one of the most impressive seasons in recent UH pitching history. The 6-foot-2-inch, 205-pound junior righthander from Moreno Valley, Calif., won four of his first five starts during the non-conference season while compiling a miniscule 2.40 earned run average.
Wright's ability to move from bullpen ace to No. 1 starter has been a key to the Rainbows' ascent into the national rankings this season.
"I've always had confidence," he says. "But this year our team confidence is at an all-time high. I know when I'm out there that the defense behind me is going to make the plays. We almost have a chip on our shoulders. We expect to win."
Wright's success hasn't come overnight. A great deal was expected from him when he came out of Valley View High in Moreno Valley, Calif., with a 90-plus mph fastball. He was a high school All-American who was not only sought after by major schools, including Arizona State, but he was also drafted by the San Diego Padres. He chose Hawaii where he spent most of his first two seasons as the Rainbows' late-inning closer.
He was still a closer when he went up to the prestigious Cape Cod League in Massachusetts this past summer. There, playing with arguably the top collegians in the nation, Wright had a banner season. He finished with a 3-0 won-loss record, 12 saves, and an unreal ERA of just 0.63.
"I played for the Orleans Cardinals, and it was unbelievable," he says. "The community treated us like we were big-time; I think we averaged over 3,000 fans a game with a
high of 10,000 for one of our playoff games."
At the end of those playoffs, Wright's team won the title.
"It was the best baseball experience I've ever had," he says. "I can't express how amazing it was. Our team was like a family and we not only had a fun environment, but a winning environment. I think that relaxed nature helped us win it all."
At the end of his incredible summer, Wright came back to Hawaii with renewed determination to lead Hawaii to a conference title. He worked tireless-
ly to prepare for his new role as a starter.
"Instead of blowing it all in one or two innings, I knew I need to go at least seven," he says. "So I knew it was all about preparation. I did a lot of long-tossing and a lot of running. I also worked with low weights at high repetition in order to get the stamina to last. But I knew I still couldn't rest out there. I give it my all, every pitch and every inning."
Besides throwing two-seam and four-seam fastballs that have been clocked in the low- to mid-90s, Wright also throws a curve, change-up and a mean slider. He calls both his slider and his fastball his strikeout pitch, and he's currently averaging over a strikeout an inning. His season high is 13 K's in a complete-game nine-inning win over Western Illinois.
But all is not just baseball in his life. Wright says he prepares for his weekly outings by listening to music. "I take out my iPod and put it on shuffle and I listen to anything: country, rock, gospel. It relaxes me."
Notice that he didn't say listen to comedy.
This is one Steven Wright whose idea of The Show is making it to the big leagues after college. If he keeps throwing his serious heat, anything is possible, including a WAC title for Hawaii and a high-round spot in the Major League draft at season's end.
And that's no laughing matter.
Most Recent Comment(s):