Making The Old Coach Proud

By
.(JavaScript must be enabled to view this email address)
Wednesday - February 24, 2010
|
Share

Del.icio.us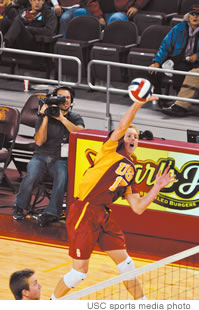 AOP alum Tri Bourne is hoping for a national title with the Trojans
There's nothing quite like the pride an ex-high school coach feels when one of his former players turns into a national championship contender in the college ranks. It's how I feel about University of Southern California men's volleyball star Tri Bourne - now considered one of the toughest outside hitters in the nation and a star for one of the top-ranked teams in the country.
You see, I was Tri's head basketball coach when he played for tiny Academy of the Pacific. I still recall a gangly young sophomore almost reluctantly taking the court the first time he showed up for practice after a season's worth of volleyball. (Tri played volleyball for Maryknoll because AOP didn't have enough players to field a team.)
Tri was one of those diamonds in the rough, the kind a coach loves to nurture because you can see that if you stick with them they're eventually going to shine. I remember telling his mom and dad, Katie and Peter - she was a former tri-sport athlete at
Wisconsin and he was a former receiver who played football for Larry Price at the University of Hawaii - that Tri had the talent to become Player of the Year if he stuck with it. By his senior year, he did exactly that - earning all-state honors while helping Maryknoll win a DII volleyball title, and then being named co-Player of the Year in ILH Division II basketball for an AOP team that made it to the state tourney for the first time in its history.
That was memorable because Tri's dad was a teacher at AOP. And also because his older sisters, Britta and Kai, went there, too. Kai later became a water polo star at Cal State-East Bay, and Britta, who suffered through four ACL tears during her soccer career, finished up last season as a standout player for the UH-Wahine soccer team.
Tri, the formerly gangly sophomore, had blossomed into a 6-foot-6-inch giant and accepted a scholarship to play volleyball for powerful Southern Cal. By his sophomore year, he was his team's most outstanding outside hitter, and he helped guide the Trojans to the national championship game where they eventually finished as the national runner-up.
But he never forgot his roots.
"I miss AOP more than anything," he says now. "Going to school at AOP and playing there was so different than anything I've ever done. Our basketball team was like a little family. I can honestly say I have learned just as much about being a good athlete playing at AOP as I have at USC, and I wouldn't have had the same success without that experience. I am also lucky to have had the support that I had at Maryknoll - the knowledge I gained from my coaches at both schools is priceless."
Less than three years after a high school experience in which he played games mostly in front of a small gathering of family and friends, Tri now plays before huge crowds on the biggest stage in men's collegiate volleyball.
"At AOP and Maryknoll, we were always the under-dogs, especially when we played against the likes of Punahou, Iolani and Kamehameha. Now I come to each game knowing that we are the best team in the country and everybody wants to beat us. Back in high school, teams would beat us and walk off the court like it was no big deal, Now, if a team beats us, they go crazy and people from the stands rush the court!"
Tri hasn't forgotten his Hawaii ties. His college roommate is former Punahou star Riley McKibbin, with whom he shared co-Player of the Year honors back in high school.
Riley's younger brother Madison also is a key player for the Trojans.
And all throughout the Pac-10 there are other former Hawaii high school stars. Stanford, for example, has seven former local players - including Dave Shoji's sons Kawika and Erik.
"Even though I want to beat Stanford more than any other team, I'm proud that the Hawaii boys there are doing so well," Tri says.
Stanford also is the site of this year's national championship tournament, and a place where Tri wants to be playing at season's end.
"This is the best team I've ever played on," he says. "Playing for a national championship is a lot of pressure, and you never know how you're going to handle it. I remember having butterflies in my stomach before (the title game) last year. But once the ball was in play, it was just like playing on the baby court at the Outrigger."
That's Tri Bourne - still thinking local, and still instilling pride in all of us who remember him so well back in Hawaii.
Most Recent Comment(s):