Manti Te'o: The Best From Hawaii?

By
.(JavaScript must be enabled to view this email address)
Wednesday - November 09, 2011
|
Share

Del.icio.us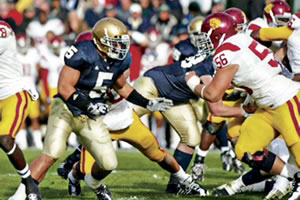 Manti Teo in action against USC in 2009. Barry Markowitz photo
I was talking with a good friend the other day and somehow the conversation turned to who we thought was the best Hawaii-born college football player ever. Each of us threw out a number of names Herman Wedemeyer, Charley Ane, Bob Apisa, Rockne Freitas, Olin Kreutz, Timmy Chang, Chris Naole, Tommy Kaulukukui, and a few other big names of the past. Further research revealed that some of those we discussed weren't actually born in the Islands Al Noga, Jesse Sapolu and Mosi Tatupu (all born in Samoa.)
Kaulukukui was the first prominent all-American from Hawaii, Wedemeyer was the first consensus allAmerican (Naole was the second), and Chang smashed a number of NCAA records during his five years of quarterbacking at UH.
But all of these past greats are about to be eclipsed by a junior linebacker currently poised to take the title as the best local-born college football player ever Notre Dame's Manti Te'o.
Just consider Manti's credentials. Not only is he on national television every week, and virtually always the center of the defensive discussion, but the award mentions he's accumulating are piling up faster than you can say Notre Dame Fighting Irish.
Just this past week, the 6-foot-2, 255-pound inside linebacker from Laie by way of Punahou was named a semifinalist for the Dick Butkus award (top linebacker in the nation), the Chuck Bednarik award (top defensive player), and the Vince Lombardi Award (best lineman or linebacker). He's also on the watch list for the Nagurski award and the Lott award, and statistically he's one of the nation's leading tacklers with more than 10 tackles per game, and No. 1 among inside linebackers for solo tackles for loss.
Following a brilliant career at Punahou, where he was named our state defensive player of the year twice, won a state championship, and was named by USA Today and Sporting News as the National Player of the Year, Te'o has been nothing short of brilliant in his 2 1/2 years in South Bend.
The speedy, hard-hitting, and versatile linebacker was a freshman allAmerican in his first year at Notre Dame, a secondteam all-American as a sophomore, and has a chance to be a first-teamer this year. Noted NFL-draft specialists list him as one of the top three linebacker candidates who might come out for the draft, with the only question whether or not Manti will declare for the draft early. If so, most experts figure he's a firstrounder.
Because the title of "best ever" is so subjective, some might argue whether Manti is ready to be crowned before his junior season is even completed. But there's no doubt that his entire body of work is quite impressive, and that he makes a huge impact on virtually every down he plays.
What I personally like about his incredible play is his unrelenting intensity and passion for the game. Manti once told reporters who cover him at Notre Dame "whether you're in Pop Warner, high school, college or the NFL, at the end of the day, it's still football. It's still the game that you played with your friends in your backyard. It's still the game that you played in the parks. It's still the same game. So that love, that joy, that swag that you have when you were little, carry that over to college. Sometimes you're lost in this whole college environment and big stadium, faster players, you lose the whole point of the game. We just play football. We just line up and get to the ball."
Right now, a case can be made that Manti Te'o has played the game better than any Hawaiian-born collegian ever.
Let the debate begin.
Most Recent Comment(s):