Masoli Has Ducks Smelling Roses

By
.(JavaScript must be enabled to view this email address)
Wednesday - December 16, 2009
|
Share

Del.icio.us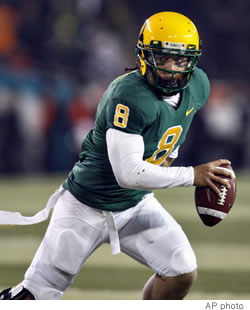 Jeremiah Masoli of Oregon
One of the happiest guys on Oahu these days is our own MidWeek editor Don Chapman. The former sports editor of the University of Oregon student newspaper is feeling just ducky about the success of his beloved Oregon Ducks, who will be representing the Pac-10 in the Rose Bowl on New Year's Day.
Chapman also has to be excited about rooting for former Saint Louis star Jeremiah Masoli as the Ducks' quarterback. Most local high school football fans were scratching their heads to recall how and when the talented Masoli played for the Crusaders. I'll admit I didn't remember his football exploits here at all.
That's because Masoli transferred to Saint Louis in the middle of his senior football season after admittedly getting into trouble at his former high school in San Mateo, where he had been a big star. Arriving on Oahu in the fall of 2005, he made an immediate impact for the Crusaders - as a backup to all-state starter Cameron Higgins, he tossed a 60-yard touchdown pass in his first game.
Masoli's biggest moments at Saint Louis came on the basketball court, where he led the Crusaders into the state tournament and was named all-state (winter 2006). Lightly recruited out of high school, he ended up at City College of San Francisco and promptly quarterbacked it to the state title as a freshman. Now he's won a Pac-10 title for Oregon, and Chapman and other Duck fans are hoping a Rose Bowl championship is next.
And there's another MidWeek connection: Oregon's Big 10 champion opponent Ohio State. Dennis Francis, our company president, is a loyal Buckeye alum. That should make for interesting meetings ...
* Congratulations to Notre Dame linebacker Manti Te'o, who was named first- team freshman all-American this past week. I saw Te'o play earlier this season in South Bend and was extremely impressed with his ability to make big plays.
The former Punahou standout was one of the Notre Dame leaders in tackles and sacks. Now the only question is, will he go on his planned LDS mission and miss the next two seasons, or come back next year to play for the new head coach of the Irish?
* If you run into any Kamehameha alumni this month, you may notice that they seem to be walking a little taller and with big smiles on their faces - and they have a great deal to smile about! That's because the Warriors' football team won the HHSAA Division I state title earlier this month, and it did so in very convincing fashion.
Coach David Stant's Warriors dispatched of 2007 state champ and 2008 state runner-up Leilehua 40-0 in the semifinals and then whipped previously undefeated Kahuku 34-21 in the title game. Imua!
* Hats off also to Iolani head football coach Wendell Look, who just became the first head coach in state history to win three consecutive state football championships. Look has now guided Iolani to four of the last five HHSAA Division II titles after the Raiders 24-17 win over Kauai this month.
Hard to believe that with all the great high school coaches in Hawaii that nobody had done this before. Prior to that there were only territorial championships, league titles and Prep Bowl championships. No Division I head coach has won more than two straight titles - Siuaki Livai of Kahuku, who also has four overall titles, holds that distinction.
* Like many, I was disappointed at the ending to the UH football season. After four straight wins, including against Navy, I was hoping that the Warriors would give a more competitive effort against Wisconsin. The only consolation is that local football fans still get to see an exciting runand-shoot offense in the Sheraton Hawaii Bowl on Christmas Eve when June Jones and his SMU Mustangs come to town to play Nevada.
For UH, as fans have been saying in sports for decades: Wait till next year!
Most Recent Comment(s):