Mixing Running And Adventure

By
.(JavaScript must be enabled to view this email address)
Wednesday - April 29, 2009
|
Share

Del.icio.us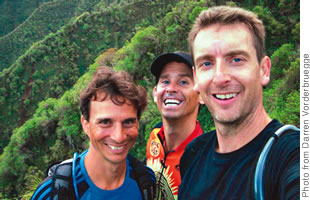 (From left) John Akana, Kevin Murphy and Darren Vorderbruegge at Mount Kaala
We all know what jogging is - that practice of running long distances around our neighborhoods as a means of exercise. Beyond jogging, we marvel at the marathoners and ultra-runners who take long-distance running practically to another stratosphere - often logging well above a hundred miles of road workouts each week.
But three Oahu runners seem to have introduced a running exercise concept that goes to the beat of a different drummer. I call it "adventu-running," a name I coined. Darren Vorderbruegge, John Akana and Kevin Murphy just call it working out and having fun at the same time.
"There are just so many great places to run in Hawaii, and it's so beautiful," says the 44-year-old Vorderbruegge, who almost suggests the question: Why not explore and take advantage of the natural beauty our island has to offer while you're working out?
Over the past few years, the three former athletes who are better known by their nicknames of The Murph, Vord and John have run the rim trails of the Ko'olau; the roads and trails near Kaena Point; the mega-long distances of Peacock Flats; the vast Nuuanu and Manoa trail systems; the ridges above Aiea, Moanalua, Kailua and Waimanalo; up on Tantalus; and all the way to the top of Oahu's Mount Kaala.
"You jog when you can, you climb when you need to, and you powerwalk when you have to. Sometimes it's slippery, but you do what you have to do, and every step is amazing," Vord says.
The HPU athletic director moved to Hawaii about three years ago and hooked up with Akana, a former runner and tri-athlete who had grown up here. Soon Murph, another former tri-athlete, was coming along.
"We have crazy schedules due to our jobs, so sometimes we'd run once a week, sometimes three times, sometimes at the crack of dawn on a Sunday morning," says Vord." The first time I ran with John, it was up Hawaii Loa ridge; next thing you know, he's showing me the island through running."
Once they started their evening workout so late, they almost ended up needing a search and rescue team. "We started off near the Nature Center on Tantalus, meaning to use the trails to get to Paradise Park (in the back of Manoa Valley) and it started to get dark. And when it gets dark in a bamboo forest, it gets really dark. We couldn't see our hands in front of our face, it was so bad. We just had to feel our way out. John was just ahead of me and when he felt the gravel beneath his feet, we started whooping and hollering because we knew we were out and would-n't have to spend the night up there."
Now the group carries emergency headlamps wherever they run.
"We have this (competition) called 'It's Your Day' and when we get the call, we know we're just supposed to follow along. On New Year's Day, The Murph had us meet at the Boat Ramp at Maunalua Bay. From there, we ran to Koko Crater and up the stairs. Then we ran down the stairs and out to Spitting Caves at Portlock, where we dove in 40 feet off the cliffs. Then we swam in and ran back."
Vord says John's 'It's Your Day' adventure was a run up Mount Kaala from Waialua High School, while Vord's adventure was a trail run past the pillboxes above Lanikai, all the way to the steep ridges above Bellows, followed by a run on Lanikai Beach and a final swim to Kailua Beach.
Sometimes they get more than they bargain for.
"We ran up from Moanalua Valley and we were up there for at least three hours or so on the trails on the ridge when we came upon the top of the Haiku Stairway to Heaven. On the spur of the moment, we just decided to go down them. When we got to the bottom, we had someone pick us up."
The adventu-running continues with an off-island excursion planned early next month.
"On May 9, we're going to fly to Maui on the first flight over, get a ride to the top of Haleakala Crater, then run down the slopes of Haleakala to Kaupo Gap (about 25 miles) where we plan to get picked up and fly back to Oahu that evening," he says.
It's all in a day's workout for The Murph, Vord and John - three true running adventurers.
Most Recent Comment(s):