Moniz Is An Internet Sensation Too

By
.(JavaScript must be enabled to view this email address)
Wednesday - August 17, 2011
|
Share

Del.icio.us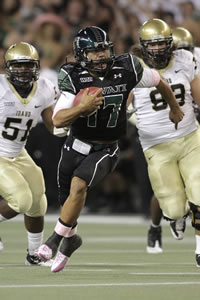 Bryant Moniz: representing Hawaii. Photo courtesy UH Sports
If there's one big reason that University of Hawaii football fans are more excited about this upcoming season than any other year since the unbeaten regular season of 2007, it's because of the local kid who carries a Hawaiian flag onto the Aloha Stadium turf before every game. He wears No. 17, but he's No. 1 in hearts.
As he says in his specially-produced-forYouTube-video, he's "Bryant Moniz, Quarterback, University of Hawaii."
It's easy to see why Warrior fans are excited. Moniz led the nation's Division I quarterbacks a year ago with 5,040 yards passing and 39 touchdowns. He has a chance this year to become only the third quarterback in NCAA history to pass for more than 5,000 yards in back-toback seasons.
The fans love him. At last check, his Facebook page "BryantMonizForHeisman" launched just this summer, had well over 1,500 "Likes" and was on its way to hundreds, if not thousands, more. He was tabbed recently as the WAC Pre-Season Offensive Player of the Year, and is on the ESPN Heisman Watch list. The UH sports information department is pumping him up weekly with updates on Twitter. His video, titled after his nickname "Mighty Mo" and complete with visual shots inspired by the Hawaii Five-0 TV show, along with the University of Hawaii marching band's production of Hawaii Five0 theme music blaring away among brilliant Moniz highlights, appropriately finishes with the promising words "New Episodes This Fall."
Moniz himself is hoping for a great wrap to his Hawaii football career this year. He has tattooed in big letters the word "FINISH" on the back of his throwing hand and right index finger. The former pizza delivery boy, surfer and walk-on from Leilehua High School knows that finishing strong is the key for the Warriors' repeat title chances in the WAC this year Hawaii's penultimate season in the conference before they depart for the Mountain West a year from now.
Through all the hype, and all the pre-season excitement, Moniz remains humble. The Moniz for Heisman video that has a chance to go viral on YouTube opens with a shot of Moniz proudly standing and displaying the Hawaiian flag on a breezy hillside overlooking the island of Oahu.
"Being Hawaiian and playing for the University of Hawaii is very special," he says in the opening dialogue. "I carry the flag every game to remind me what we're playing for: Hawaiian culture and the state of Hawaii that I represent. It's a great honor."
On the Facebook page, dozens of fans have made comments everything from "chickenskin" to "Book 'em, Mo!" to "Mighty Mo locked and loaded" to "5000 X 2, yeah baby!" One of the proudest comments was written by Bryant's grandmother, Paula Scanlon Moniz: "Simply breathtaking," she writes about the video. "I'm so proud not only that he's my grandson, but who he represents ... Hawaii."
Whether all of this campaigning by the University of Hawaii's sports information staff actually leads to an invitation to Moniz for the Heisman Trophy ceremony in December is anybody's guess. But regardless of whether that happens, fans are right in expecting a great season ahead.
"Mighty Mo" should put up dazzling yardage and touchdown numbers this season and you can "Like" it all you want in social media and watch it all you want on YouTube.
Most Recent Comment(s):