More Adventure Than He Needed

By
.(JavaScript must be enabled to view this email address)
Wednesday - November 10, 2010
|
Share

Del.icio.us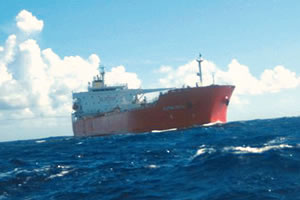 Awaiting rescue by a tanker
You've heard about the proverbial "slow boat to China" or "jumping from a sinking ship." Local sportscaster Brent Curry can tell you those things really happen. His recent life-threatening misadventure is proof.
The 30-year-old Curry, who does play-by-play for Hawaii Pacific University basketball, softball and volleyball on television and radio, survived a sinking sailboat in the middle of the Pacific and nearly found himself in a Chinese jail in a sequence of events that sounds like something from a cheap fiction novel - except they're true.
"I saw an ad on Craigslist that said 'Sail to L.A.,'" he says. "I called, and the owner of the boat said he would feed me and fly me back to the Islands if I would help be part of the crew."
Curry had done some sailing around Oahu and it sounded fun, so he hopped on the 50-foot sailboat in late August with the California-bound owner, a grizzled old captain, and another young crewmember. "The first night was horrendous," he recalls. "I was sea-sick the first 15 hours, and wondered, 'What did I get myself into?'I thought I had to be the stupidest guy around."
Nine days and 900 miles out to sea, he was wondering the same thing. The engine started smoking, the generator died and part of the mast snapped.
"We had no propulsion, no power and no workable engine," Curry says. "This was my first ocean voyage, but I couldn't grasp the gravity of the situation until the captain said, 'We're in real trouble.'"
The captain sent out a distress signal, and the Coast Guard reported that an eastbound oil tanker could potentially pick them up, but not until the next morning. By then, they had been to sea for nearly 12 days, and the four-man crew argued about whether they should abandon ship or take their chances returning home.
Brent Curry at the Great Wall
Curry recalls what he thought: "I signed up on Craigslist - I'm getting out of here!"
The huge oil tanker picked them up in rough seas in an exchange that Curry reports was "incredibly intimidating. They threw down a rope ladder over 50 feet from the deck, and with the two boats pounding against each other in the high seas, we climbed up. I had the tightest grip of my life," he says.
The misadventure wasn't ending, however.
"We thought they might be going to the Marshall Islands, but their captain reported, 'Sorry, we're going to northern China.'"
Luckily, Curry says, the all-Indian crew was incredibly hospitable, but the journey in the opposite direction across the Pacific took nearly 15 days. And by the time they reached China, the sportscaster knew he had another problem.
"We didn't have passports," he says. "Chinese officials told us that we're not getting off the ship without them."
Phone calls and e-mail messages eventually got the state department involved and passports were made by fax, but a shipping company agent refused to hand them over to the Hawaii refugees until they paid $1,500 cash that Curry simply didn't have.
"We were getting extorted essentially," he says. "I told him I didn't have that kind of money, and he said, 'If you don't come up with the money, I'll call the police and you're going to jail.'"
Several hours later, after pleading, begging and negotiating, the price was reduced and the sailboat's owner came to Curry's rescue with the much-needed cash. Finally, he was safe - and he spent his last day in China like a tourist.
"That last day, I went to the Great Wall, and McDonald's and Hooters. I'm drinking a Budweiser, and I'm thinking, 'We're free. It's great to be an American.'"
More than 30 days after he set sail from Honolulu, Curry touched American soil again, and says he learned a great lesson.
"Don't sweat the small things," he says. "When bad stuff happens now, I'll say, 'Things could be a whole lot worse. I could be fed to the sharks or in a Chinese prison - this is nothing!"
Most Recent Comment(s):